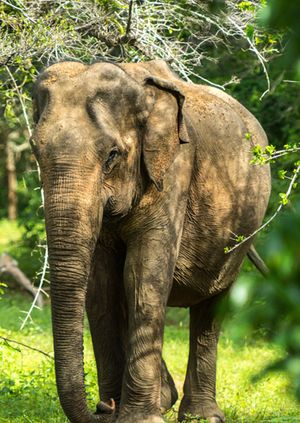 Wild Life Drawing Online: Elephants (Live)
16th Jul 2023 10:30am - 12pm
This is a live-stream event
Add to Calendar
Event Details
Pack your trunk because we are trundling back to the jungle! Our destination is Mandalao Elephant Sanctuary in Laos, where we will be given a virtual tour and introduction to some truly stunning rescued Asian Elephants. We will sketch the eles while they munch their way through a hefty supply of banana leaves, mangoes and pineapple tops. Yum!
We are delighted to be working with the wonderful team at Mandalao, who rescue elephants from mistreatment and exploitation in the logging and tourism industries. The elephants in their care are able to live out their lives in the peaceful surroundings of the jungle, where they are given the freedom to roam and forage everyday, and are treated with respect and care. Many so called "sanctuaries" in this part of Asia offer elephant rides and experiences which aren't actually enjoyable for these intelligent animals, but at Mandalao interaction with visitors is always lead by the elephants. They won't say no to being fed a banana or two, or being accompanied on a walk, but are never ridden or forced to entertain. 
The class will begin with an introduction from Wild Life Drawing founder and artist Jennie Webber, who will provide a step-by-step guide to drawing asian elephants from life. We will be also joined by Benedikt Göller, a dedicated member of the Mandalao team, who'll be teaching us all about the elephants, their stories, and the dedicated work he and his colleagues do to improve the lives of these magnificent creatures. There will of course be plenty of opportunity for all of your elephant questions.   
The basic materials you need to take part are paper, a pencil, eraser and sharpener, but of course you are more than welcome to work in whatever materials you enjoy or have to hand. You will be emailed instructions and the Zoom link to join 48 hours before the event is due to start, or in good time if you booked your ticket closer to the event. We will send out a recording of the class afterwards so you can watch it back, or catch up if you aren't able to attend on the day. 
50% of your ticket price will be donated to Mandalao Elephant Sanctuary.