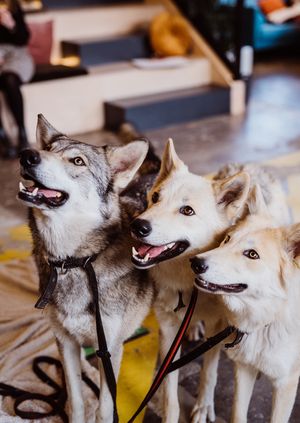 Wild Life Drawing: Wolves
30th Jul 2023 11am - 1pm
Add to Calendar
Event Details
Join us this July to meet, draw, and fall in love with our stunning wolf pack. Our much adored models are in fact a family of British Lupine wolf-dog hybrids, who look just like wild wolves, howl at the moon and live in a pack, but are just as tame and friendly as your own pet pooches! The pack we will be drawing are quite the celebrities and have appeared in lots of films and television shows, and have even featured in Vogue, darling! 

The class will begin with an introduction and drawing demo by nature illustrator Jennie Webber, who will be on hand throughout the class to guide you through the process of drawing animals from life. As the session progresses we will hear from canine behavioural expert and "head wolf" Natalie Langstrom, who will teach us all about wolf-dogs and wild wolf conservation. Natalie is incredibly knowledgeable about all things canine and will be happy to answer any questions you have. The class is open to all abilities. Whether you're a dab hand or an absolute beginner, with our top tips on drawing moving models you will be sketching away in no time. We will provide everything you need to draw- drawing boards, paper and a colourful array of materials- but do feel free to bring along any of your favourite drawing materials if you'd like to. 
Here at Wild Life Drawing we are a small team who are dedicated to animal welfare. We only ever work with the finest animal handlers, who treat their animals with care and respect, and healthy animals that are happy being around humans. 
10% of profits will be donated to Wolf Watch UK. This fantastic organisation provides a safe haven for displaced wolves at their 100 acre woodland sanctuary in Shropshire.