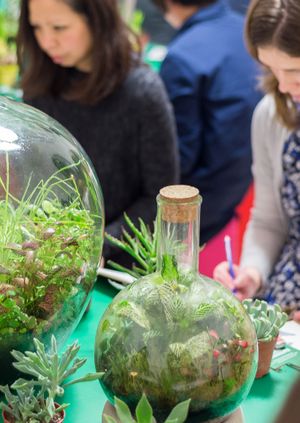 Wild Life Drawing x London Terrariums
5th Jul 2023 7pm - 9pm
Add to Calendar
Event Details
We're stocking up on plenty of green coloured art supplies, because this July we have a luscious and lovely botanical class planned, studying the amazing mini-ecosystems created by the team at London Terrariums. For those of you who aren't familiar, a terrarium is a sealed transparent globe or similar container in which plants are grown. The first one was actually created by accident by botanist Dr. Nathaniel Bagshaw in 1842, when he was raising moth pupa in a sealed glass jar. He noticed that a fern spore and grass seedling had germinated and were growing within the jar, and so began experimenting with growing more plants in this way. This discovery inspired the invention of his "Wardian Cases" which went on to revolutionise the botany world, allowing scientists to transport plants from all over the world to study. 
The class will be held at the indoor jungle that is the London Terrariums workshop, and will be lead by illustrator Jennie Webber.  LT founder Emma Sibley will also be on hand, with all her green-fingered knowledge and plenty of fascinating plant facts. Jennie will begin the session with a detailed drawing demonstration to get you started with your botanical sketches, and will be on hand with plenty of creative advice throughout. The class is open to people of all artistic abilities- whether you're a dab hand or an absolute beginner, we will have you sketching away in no time. We will provide all the materials you need- paper, drawing boards and a colourful range of materials- but please feel free to bring your own kit along if you'd like to. Tickets are non-refundable, but can be transferred to another name.
10% of Profits will be donated to the Bumblebee Conservation Trust.