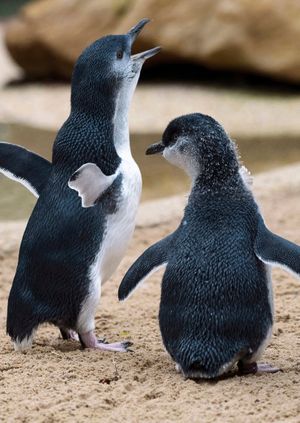 Wild Life Drawing: Fairy Penguins
12th Jul 2023 6:30pm - 8:30pm
at SEA LIFE Centre Weymouth
Add to Calendar
Event Details
How about a sunny evening sketching penguins by the sea- sounds pretty dreamy doesn't it? This July, we will be waddling down to Weymouth to make the acquaintance of the only colony of Fairy Penguins in Europe, and we'd very much like you to join us! These sweet sea birds are the smallest species of penguin in the world, measuring a dainty 30cm tall. They hail from New Zealand and Australia, where they spend their days foraging for fish in the the temperate oceans. *Disclaimer: Fairy penguins get their name from their small size rather than any other qualities. There is currently no evidence of these birds having magical powers, though it can't be ruled out for sure.*
The class will be held at SEA LIFE Centre Weymouth, which has been home to a gorgeous group of these tiny penguins since 2018. We will be sketching in their purpose built walkthrough enclosure, so will have a great view of the group, and will be shown around by an expert member of the team. While we draw we will learn all about this fascinating species' biology and adaptations, as well as their conservation status. 
The class will be lead by artist Laura Cuppage, who will begin with an introduction to drawing from life. Throughout the session Laura will be on hand with plenty of creative advice on drawing moving models. We welcome people of all artistic abilities to take part- whether you're a dab hand or you haven't picked up a pencil in years, we will have you sketching away in no time. We will provide everything you need to get going- paper, drawing boards and materials- but you're welcome to bring your own kit along if you'd like. 
Animal welfare is at the heart of everything we do at Wild Life Drawing. We are a small team of animal lovers who are dedicated to nature, and we strive to make each of our classes a positive experience for the animals we draw. We only ever work with handlers who treat their animals with respect and care, and animals that are healthy and happy being around humans. 50% of your ticket price will be donated to SEA LIFE Weymouth and their partner charity SEA LIFE Trust, to help protect marine habitats and animals across the world. 
Tickets are non-refundable, but can be transferred to another name.