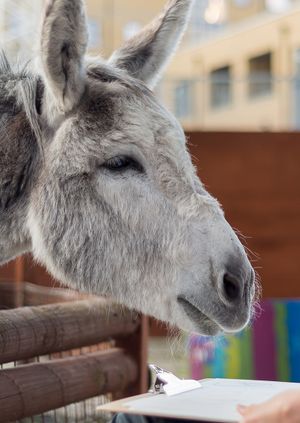 Wild Life Drawing: Farmyard Tour
2nd Jul 2023 12pm - 2pm
at Spitalfields City Farm
Add to Calendar
Event Details
Have you ever visited Spitalfields City Farm? If you have, you'll know what a special place it is with it's community garden, cute cafe and oh-so-friendly team. This July, join us to explore the farm on a drawing tour where we will meet and sketch the beautiful resident rescue animals and rare breeds from life. We will kick things off in the paddock with darling donkeys Derek and Bayleaf, mosey on over to meet the gorgeous goats, and then hop off to hang out with the bunnies and guinea pigs! We will be hosted by fabulous Farm Manager Jenny, who will teach us all about the various species that live at the farm, and we will discuss their welfare and conservation across the world. 
Nature illustrator Jennie Webber will begin the session with an introduction to observational drawing, and will be on hand with plenty of creative advice throughout. We welcome people of all artistic abilities to take part. Whether you're a dab hand or you haven't picked up a pencil in years, we will have you sketching away in no time. We will provide everything you need to get going- paper, drawing boards and materials- but you're welcome to bring your own kit along if you'd like. Children over 7  are very welcome to attend, provided that they are accompanied by a ticket holding adult. 
Animal welfare is at the heart of everything we do at Wild Life Drawing. We are a small team of animal lovers who are dedicated to nature, and we strive to make each of our classes a positive experience for the animals we draw. We only ever work with handlers who treat their animals with respect and care, and animals that are healthy and happy being around humans. £10 from each ticket will be donated to Spitalfields City Farm, to support their fantastic community work. The farm is a charity in it's own right, and provides a retreat for local school children and adults with learning difficulties, as well as working to conserve endangered breeds of animal.
Tickets are non-refundable, but can be transferred to another name.