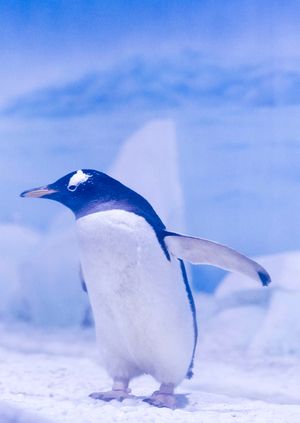 Wild Life Drawing: Gentoo Penguins
28th Jun 2023 6pm - 8pm
at SEA LIFE London Aquarium
Add to Calendar
Tickets
There are no tickets currently on sale for this event
If you'd like to be notified when more become available enter your email address below.
Event Details
P-p-p pick up a pencil, because this June we will be at the London Aquarium for an evening sketching the gorgeous resident group of Gentoo Penguins! With their adorable waddle, on land these penguins can look a bit like they have two left flippers so you may be surprised to learn that they are the fastest swimming birds on earth! We will be able to observe this Gentoo gang both on land and underwater at Sea Life London's specially designed penguin area and we'll be hearing about penguin conservation around the world. Penguins like their beauty sleep, so we will have an earlier start time for this class, so we can get our drawings done before they turn in for the night. There will also be some time to explore other parts of the aquarium to draw other species, like sand tiger sharks, sea turtles and rays. 
The class will begin with an introduction on drawing from life from illustrator Jennie Webber, who will be on hand throughout the session with plenty of creative guidance. A penguin expert from the aquarium will take you on a deep dive into all things Gentoo, discussing their social groups, habitats and conservation. You don't need any art experience to take part in the session, and we will provide everything you need to get sketching; drawing boards, paper and lots of colourful materials.
Here at Wild Life Drawing, we are a small team who are dedicated to animals and conservation. Making a positive impact to the natural world is the main aim for these classes, which we strive to make as sustainable as possible. SEA LIFE London works closely with its partner charity SEA LIFE Trust, to protect marine habitats and species. 50% of your ticket price will be donated to the charity, so by joining the class you will be supporting ocean animals across the world.