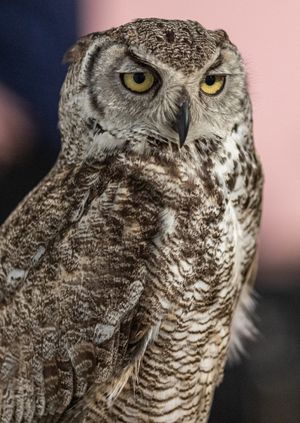 Wild Life Drawing: Owls
28th May 2023 3pm - 5pm
Add to Calendar
Event Details
This May, we are taking wing and flying up to the city of Edinburgh to draw some gorgeous Owls. As this will be our first ever class in bonnie Scotland, we are all a-flutter! We will meet a striking Mackinder's Eagle Owl, who is sure to wow you with his bright orange eyes and charming ear tufts. We will also be joined by a Tawny Owl- this delicate native species is responsible for the classic "twit twoo" call, which is in fact a call and response- the "twit" is made by the female, and the "twoo" is the male's reply! There will be a third species on the bill too, who will be a special surprise on the day. 
The class will be hosted by wildlife artist Laura Cuppage, who will be on hand throughout the session to provide plenty of creative guidance. We will be introduced to our fine feathered models by expert local falconer David. While we draw, we will learn all about owls, and there will be plenty of time for any questions that you have. No prior art experience is needed to join the session- whether you're a dab hand or an absolute beginner we are confident that with a few of our simple tips and tricks we will have you sketching away in no time. The aim of our classes is to use drawing as a tool to learn more about animals and conservation, and there is no pressure to create a "perfect" portrait! We will provide a range of art materials, paper and drawing boards for you to use, so no need to bring anything along, but if you have some trusty favourites that you enjoy using you're very welcome to bring them. 
Animal welfare is at the heart of everything we do at Wild Life Drawing. We are a small team of animal lovers who are dedicated to conservation, and we strive to make each of our classes a positive experience for the animals we draw. We only ever work with the finest handlers who treat their animals with respect and care, and animals who are healthy and happy being around humans. The falconry team who is bringing along the owls for this class is part of several breeding schemes helping to conserve endangered vulture species in the wild.
10% of the profits of this class will be donated to Vulpro, a charity which is close to the heart of our falconer David. Vulpro's mission is to conserve the vultures of Africa, through rescue, rehabilitation and breeding programmes.