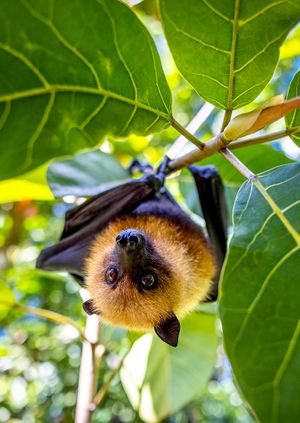 Wild Life Drawing Online: Flying Foxes (Live)
24th Jun 2023 11am - 12:30pm
This is a live-stream event
Add to Calendar
Event Details
Coming up this June, an online hang out sesh with some beautiful bats, what could be better?! We will be connecting to sunny Seychelles to study Flying Foxes. This species are the only native mammal to the Seychelles, and play a crucial role in the wider health of the ecosystem by pollinating the fruit trees on which they feast. 
We will be joined online by Tamara Dreyer who is the co-founder of Protect Paradise. This wildlife rehabilitation centre are on a mission to protect the incredible fauna of the islands. The charity began their work back in 2017, when Tamara found an orphaned flying fox pup drowning in a river. When she tried to find a rescue centre to take him to and discovered that there wasn't one, she decided to set one up herself! Since then the charity has gone from strength to strength, and now specialises in not only flying foxes but hawksbill turtles and giant tortoises, as well as rescuing many more species. We are so inspired by this story which shows that we can all make a difference to nature, and can't wait to hear more at the class. The session will be hosted by wildlife artist Laura Cuppage, who will begin with a drawing demo. As we will be drawing the bats live, Laura will give you lots of tips on drawing moving models. The class is open to people of all artistic abilities. Whether you're a dab hand or an absolute beginner, with a bit of creative guidance we will have you sketching away in no time! 
The basic materials you need to take part are paper, a pencil, eraser and sharpener, but of course you are more than welcome to work in whatever materials you enjoy or have to hand. You will be emailed the reference images, instructions and the Zoom link to join 48 hours before the event is due to start, or in good time if you booked your ticket closer to the event. We will send out a recording of the class afterwards so you can watch it back, or catch up if you aren't able to attend on the day.
50% of profits will be donated to Protect Paradise.