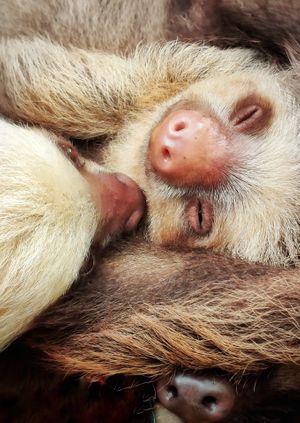 Wild Life Drawing Online: Baby Sloths (Live)
23rd May 2023 7pm - 8:30pm
This is a live-stream event
Add to Calendar
Event Details
This May, we are looking forward to a nice chilled hangout at a live online class drawing baby sloths. These tree dwelling herbivores live life in the slow lane, spending much of their time sleeping. The few hours a day they are awake are spent munching on leaves. Owing to their slow metabolism sloths only, um, make use of the facilities, once a week- making the trip down to the ground to dig a hole in which to deposit a poop that is 1/3rd their weight! 
We will meet the current group of baby sloths that are currently recuperating at the Jaguar Rescue Centre, in Costa Rica. This fantastic facility provide a safe haven for injured, orphaned and ill animals, with an aim to release back to the wild whenever possible. While we draw we will learn the individual stories of our mossy models, and will learn all about the amazing adaptations that make sloths so unique.
The class will be lead by nature illustrator Jennie Webber, who will begin with her top animal drawing tips. We will be drawing the sloths as they move about freely (albeit very slowly), so Jennie will provide plenty of advice on sketching moving models. The team at JRC will be happy to answer your questions, and will have lots of fun sloth facts to share throughout the session. The basic materials you need to take part are paper, a pencil, eraser and sharpener, but of course you are more than welcome to work in whatever materials you enjoy or have to hand. You will be emailed the reference images, instructions and the Zoom link to join 48 hours before the event is due to start, or in good time if you booked your ticket closer to the event. We will send out a recording of the class afterwards so you can watch it back, or catch up if you aren't able to attend on the day. 
50% of ticket profits will go to Jaguar Rescue Centre.