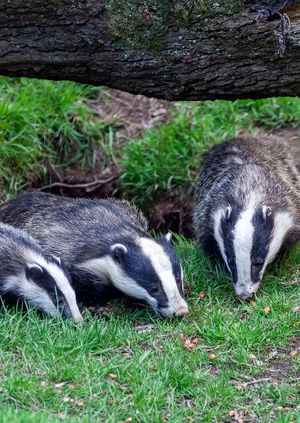 Wild Life Drawing Online: Badger Clans
11th May 2023 7pm - 8:30pm
This is a live-stream event
Add to Calendar
Event Details
Join us this May to celebrate Badger week with an online class drawing these iconic monochrome beauties. Often thought of as solitary animals, we will be discovering a lesser known part of their lives- their complex social groups. Families of badgers are known as clans, and can have as many as 20 members. Unlike most animals that live in groups, badgers are independent souls who like to do their own thing, going off on solo missions to hunt and forage, but then returning to the shared sett to sleep as a group.
We will be joined online by the lovely Elaine from Scottish Badgers. For over 20 years, this wonderful charity have been working hard to conserve and protect this beautiful species. Badgers are sadly often misrepresented and mistreated by us humans, and their habitats are being lost. While we draw, Elaine will have lots of information for us, will answer all your questions and will give her top tips for how we can help in the fight to protect this beautiful native species.
The class will begin with a drawing demonstration from artist and wildlife enthusiast Laura Cuppage, who will guide you through the process of drawing beautiful badgers. The class is open to people of all artistic abilities. Whether you're a regular drawer or haven't picked up a pencil in years, we're sure that with plenty of creative guidance and handy hints, we will have you sketching away in no time! The basic materials you need to take part are paper, a pencil, eraser and sharpener, but of course you are more than welcome to work in whatever materials you enjoy or have to hand. Please get in touch if you need advice on materials, we're always happy to help. You will be emailed the reference images, instructions and the Zoom link to join 48 hours before the event is due to start, or in good time if you booked your ticket closer to the event.
50% of ticket profits will go to Scottish Badgers.