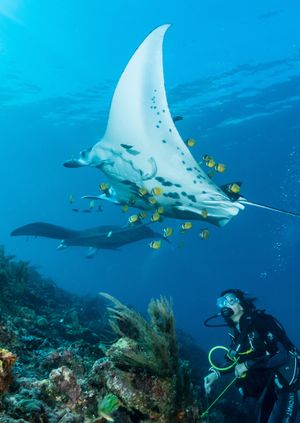 Wild Life Drawing Online: Manta Rays
22nd - 23rd Apr 2023
This is a live-stream event
Add to Calendar
Event Details
This Earth Day, join us to celebrate our beautiful planet with a class on graceful, dreamy giant of the sea- the Manta Ray. These creatures are surrounded by plenty of myths of being dangerous and having deadly stingers but are in fact quiet, peaceful beings that post no threat to humans. They have the largest brain-to-body ratio of any fish, and are highly intelligent. They scored similarly to dolphins and chimpanzees on self-awareness tests, and have complex social lives. They like to forage and play, are curious and friendly, and actively choose to group with preferred social partners.
We are delighted to say that we will be joined for the session by Zachary Riskin, who is the manta ray conservation project leader at LAMAVE (Large Marine Vertebrates Research Institute Philippines). Zach and his team are currently working studying a newly discovered manta ray cleaning station in the coastal coral reefs of Palau- an area which is home to some of the most unbelievably beautiful and rich ecosystems in the world. Often referred to as the "Last Ecological Frontier", its northern portion includes a diversity of shallow bays and rocky islets surrounded by intact mangrove forests and deep oceanic habitats.
The class will begin with an introduction and drawing demonstration from artist and wildlife enthusiast Laura Cuppage. We will then hand over to Zach, who will tell us all about the manta ray cleaning station research he and his team are currently undertaking, and will tell us some stories of his scuba adventures and encounters with these awe-inspiring animals, and what's it's like to be stationed in such a breathtaking landscape! While we draw you will be welcome to ask lots of questions, which Zach will be happy to answer during the class.
The class will be held on zoom, and is open to all abilities. Wether you're an regular drawer or you haven't picked up in a pencil in years, with our simple drawing method and all the creative guidance you need, we will have you sketching away in no time. The basic materials you need to take part are a some paper, a pencil, an eraser and a sharpener, but feel free to mix it up and get creative with your materials if you'd like- watercolours would be lovely for this one! We will send you an email with a link for the class and some beautiful reference images a couple of days before the class.
50% of profits will go to LAMAVE to go towards their wonderful work protecting our the marine mega fauna of the Philippines.