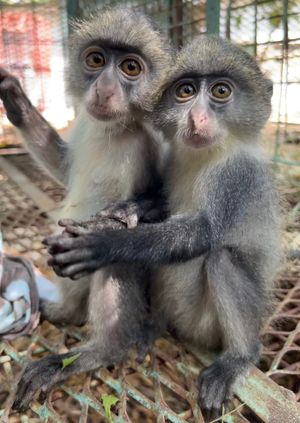 Wild Life Drawing Online: Primates of Kenya (Live)
29th Apr 2023 11am - 12:30pm
This is a live-stream event
Add to Calendar
Event Details
This April, join us for an exciting live online class where we will draw some of the beautiful native primates of Kenya. We will study Vervets, Sykes, Colobus Monkeys and Bush Babies, and learn about each species. We will be joined by the team at Colobus Conservation, a not-for-profit organisation that work to protect local primates, and the coastal forest habitats of south-eastern Kenya. The organisation has a rescue centre where they rehabilitate injured and unwell primates, and run projects in the area to reduce harm to local wildlife, like building aerial ladders to give primates a safe way to cross busy roads. They also have an education scheme and work with local schools to raise awareness of conservation issues. 
This class will have a live element, and we are likely to be joined by many a monkey on the call, but as the monkeys come and go as they please and move very quickly, we will also have some lovely reference images to draw from. The session will begin with an introduction from wildlife illustrator Jennie Webber, who will provide a step-by-step drawing demo. We will then hand over to Patience Wambugu who works at the sanctuary, who will give us a tour of the centre, introduce us to some of the animals that are currently being rehabilitated, and show us any of the cheeky wild monkeys who fancy a moment in the spotlight too. She will then sit with a very sweet little infant varvet monkey named Swahili, and answer all your questions as we draw. 
The class is open to all abilities. Whether you're a dab hand or an absolute beginner, we will have you sketching away in no time! The basic materials you need to take part are some paper, a pencil an eraser and a pencil sharpener, but if you'd like to experiment please feel free to get creative with your choice of materials. The reference images will be emailed to you along with instructions and the zoom link 48 hours before the event is due to start, or in good time if you book your ticket closer to the session. We will send out a recording of the class afterwards so you can watch it back, or catch up if you aren't able to attend on the day. 
50% of profits will go to Colobus Conservation.