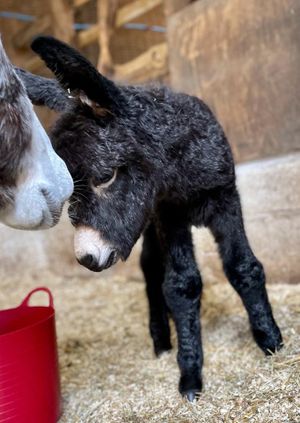 Wild Life Drawing Online: Donkey and Foal (Live)
19th Mar 2023 11am - 12:30pm
This is a live-stream event
Add to Calendar
Event Details
This Mother's day, join us to celebrate the beauty of motherhood in the animal kingdom with a live online class drawing gorgeous donkey Willow and her newly born foal, Ash. We will sketch these darlings as they frolic in the field at their home, Hackney City Farm. While we draw we will hear from their dedicated care team all about how Willow is adjusting to motherhood, and how little Ash is doing at learning how to be a donkey! 
Note: We also have an in-person class drawing these two in April, so this one is a sneak-preview for anyone who is coming to that, and a chance to meet this sweet pair for anyone who can't make it to the in-person session. 
The class will begin with an introduction and drawing demo by wildlife artist Laura Cuppage who will be on hand throughout the session to guide you through the process of drawing animals from life. She will also give you some top tips on how to concentrate on drawing when in the presence of an animal so adorable that you feel you may cry. As always, the class is open to all abilities! Wether you're a dab hand or an absolute beginner, with our top tips on drawing moving models we will have you sketching away in no time. We will emaile you instructions and the zoom link 48 hours before the event is due to start, or in good time if you book your ticket closer to the class. 
50% of profits will go to Hackney City Farm, to go towards keeping Willow, Ash and all the other animals there well fed, happy and healthy.