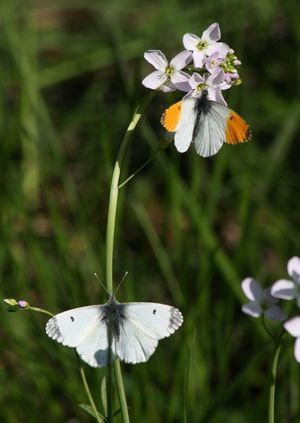 Wild Life Drawing Online: British Butterflies
21st Mar 2023 7pm - 8:30pm
This is a live-stream event
Add to Calendar
Event Details
We've come about all a-flutter, because this March we will be drawing some gorgeous native butterflies. We will be focusing on the life cycle of the Orange Tip- a species which you have likely spotted on many an occasion here in the UK. We will teach you how to draw not only the beautiful adult butterfly, but the delicate pearl like eggs, polka dotted caterpillar and the amazing pupa! 
The class will begin with an introduction and drawing demonstration from artist Laura Cuppage. We are delighted to say we will also be joined by Kate Merry from Butterfly Conservation, who will teach us about this fascinating species, fill us in on the charity's current projects, and provide some practical tips on how to help our own local butterfly populations. There will also be time for lots of questions.
The class will be held on zoom, and is open to all abilities. Wether you're a dab hand or an absolute beginner, with our top tips and some creative guidance we're sure we will have you sketching away in no time! The basic materials you need to take part are some paper, a pencil an eraser and a pencil sharpener, but if you'd like to experiment you're of course free to get creative with your choice of materials! We will demonstrate with pencil and some colour (it would be wrong not to include a spash of orange for this one!). We will draw from a selection of high quality reference images, kindly provided by the charity, which will be emailed to you along with instructions and the zoom link 48 hours before the event is due to start, or in good time if you book your ticket closer to the session. 
50% of profits will go to Butterfly Conservation, to support their fantastic work with Butterflies, Moths and our environment.