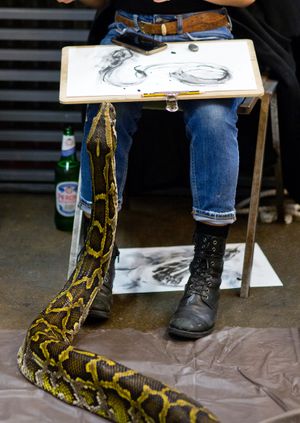 Wild Life Drawing: Sculptural Serpents
15th Apr 2023 11am - 1pm
at Royal Society of Sculptors
Add to Calendar
Event Details
This class is set to be off the scale, and is sure to go down in hiss—tory! To celebrate the opening of Polly Morgan's upcoming exhibition 'Open! Channel! Flow!' at the Royal Society of Sculptors, we will be bringing some slithery super-models along to the space for an exciting day of drawing. Join us to meet and sketch some truly incredible snakes including colourful corn snakes, beautiful boa constrictors and Eleanor the giant burmese python, who is an astonishing 15ft long!
The class will begin with an introduction and drawing demo by wildlife artist Jennie Webber, who will be on hand throughout the session to guide you through the process of drawing animals from life. As the session progresses our expert reptile handler will teach us about the amazing adaptations on show in this species group, and we will discuss snake welfare in the exotic pet trade and their conservation in the wild. There will be time for plenty of questions, and the snakes are likely to give your work an inspection too!
The class is open to all abilities. Wether you're a dab hand or an absolute beginner, with our top tips on drawing moving models we will have you sketching away in no time. We will provide everything you need- drawing boards, paper and a colourful array of materials- but do feel free to bring along any of your favourite materials if you'd like to. 
Here at Wild Life Drawing we are a small team who are dedicated to animal welfare. We only ever work with the finest animal handlers- all of whom treat their animals with care and respect- and healthy animals that are happy being around humans. The snakes that we will be drawing are all rescue animals who are now residents at a wonderful reptile sanctuary where they are given the specialised care that they require.  
10% of profits for this class will be donated to Creative Conservation Alliance. This wonderful grass-roots organisation are dedicated to the ecological and cultural preservation of Bangladesh's last remaining wild spaces. The organisation are currently studying the native burmese python population in an effort to find ways to reduce human conflict with the species.