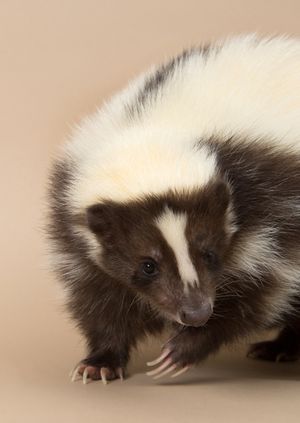 Wild Life Drawing: Curious Copulations
14th Feb 2023 7pm - 9pm
Add to Calendar
Event Details
From snails piercing their mates with "love darts", to skunks warding off unwanted sexual attention by shooting noxious spray from their rears, and female tarantulas eating males right after mating with them, things can get pretty bizarre in the animal kingdom when it comes to makin' babies. This Valentines day, wether you're a lover or hater of the annual celebration of all things romantic, join us to learn about some of nature's most peculiar mating rituals. 
Our beautiful Blossom the skunk will be strutting her stuff for us along with some of her pals- Giant African Snails, Giant Millipedes, Tarantulas, Tortoises and Tree Frogs! All of these amorous animals get jiggy in weird ways, which we will teach you all about while we draw. 
The class will begin with an intro and some top drawing tips from artist Laura Cuppage, who will be on hand throughout the session with as much creative guidance as you would like. We will be introduced to our marvellous models by our animal expert Lauren, who will be happy to answer all of your questions while we draw.
You don't need to bring anything along to the class other than a willingness to take part! We will provide you with all the art materials you need, but you're welcome to bring your own if you'd like. Wether you're a dab hand or an absolute beginner we are confident that we will have you sketching away in no time. 
A deep respect and love for animals and nature is at the core of the Wild Life Drawing ethos. We only ever work with the absolute best animal handlers, and ensure that every animal we draw is happy, healthy and comfortable being around humans. With every ticket sold we donate money to conservation charities and animal sanctuaries, and we use our classes as a platform to raise awareness of issues facing the species we study. 
10% of the profits for this class will be donated to South Essex Wildlife Hospital.