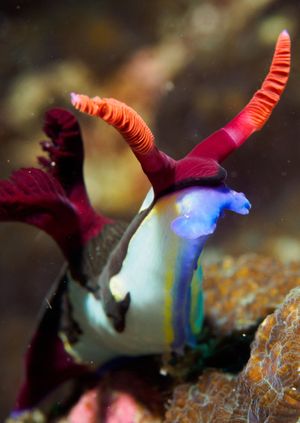 Wild Life Drawing Online: Nudibranchs
1st Feb 2023 7pm - 8:30pm
This is a live-stream event
Add to Calendar
Event Details
Get out your most colourful art materials- you're going to need them for this upcoming class. We will be studying Nudibranchs- fabulously flamboyant slugs of the sea! You may be surprised to learn that while these creatures look totally tropical, there are over 100 types native to the UK. They are in fact found in oceans the world over, in all sorts of amazing shapes and colours. 
We will be joined online by marine biologist Igor Adameyko, who will be teaching us all about these amazing animals. Igor regularly goes on diving expeditions in search of unusual marine animals, specialising in species that measure no more than a few centimetres. He will be on hand to answer all your questions- the weirder the better! Last time we had a class with Igor he taught us that some species of jellyfish are immortal, so who knows what he will blow our minds with this time! 
The class will be held by artist Laura Cuppage, who will take you through drawing sea slugs with a step-by-step guide. We will start off with simple shapes, and then add all the details needed to really to bring your drawings to life. The focus for this class will be all about the amazing colours of these marvellous molluscs, so do get your watercolours, pastels, or pens at the ready. You'll also need some paper, a pencil, a rubber and a sharpener. You will be emailed a pack of beautiful reference images along with instructions and the Zoom link 48 hours before the event is due to start, or in good time if you booked your ticket closer to the event.
50% of ticket profits will go to Ocean Conservancy.