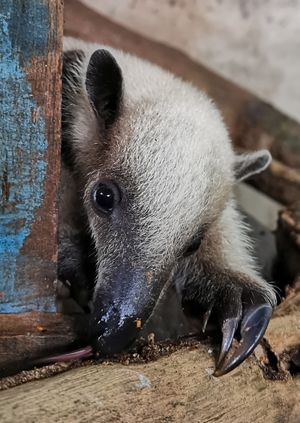 Wild Life Drawing Online: Tamanduas
19th Dec 2022 7pm - 8:30pm
This is a live-stream event
Add to Calendar
Event Details
For our final class of the year we will be drawing an arboreal ant enthusiast: the Tamandua! This unique species are a type of anteater, who spend most of their time way up in the trees of Central and South American forests. They nest in hollow trunks during the day, and hunt for insects at night. Baby tamanduas spend several months being carried around on mama's back, where they are safe from predators and falls. Being such unusual and "exotic" animals, tamanduas unfortunately suffer at the hands of the poachers who profit from the illegal pet trade. This cruel and callous industry is currently the main threat facing the species. 
For this class we will be joined by a real hero of the conservation world- Anna Bryant, biology coordinator at ARCAS Guatemala. This courageous organisation are on frontline in the fight against the illegal pet trade. ARCAS was formed in 1989 by a group of Guatemalan citizens who became concerned as they saw their precious natural heritage - especially their wildlife - rapidly disappearing before their eyes. Since then they have rescued, rehabilitated and released thousands of animals, and provided life long care to any that aren't able to be released. Anna will tell us about the crucial work the organisation do, including their work with the Guatemalan authorities to prosecute the organised criminals who poach and traffic wild animals. 
The class with be lead by artist and wildlife enthusiast Laura Cuppage who will begin with her top tamandua drawing tips. We will be drawing from reference images provided by ARCAS of some of the rescued tamanduas that Anna has personally hand reared. As the session progresses, Laura will be on hand with creative guidance, and Anna will tell us all about life at a Guatemalan animal sanctuary, and what it's like to be foster mum to a tamandua pup. 
The basic materials you need to take part are paper, a pencil, eraser and sharpener, but of course you are more than welcome to work in whatever materials you enjoy or have to hand. Please get in touch if you need advice on materials, we're happy to help! You will be emailed the reference images, instructions and the Zoom link to join 48 hours before the event is due to start, or in good time if you booked your ticket closer to the event.
50% of ticket profits will go to ARCAS.