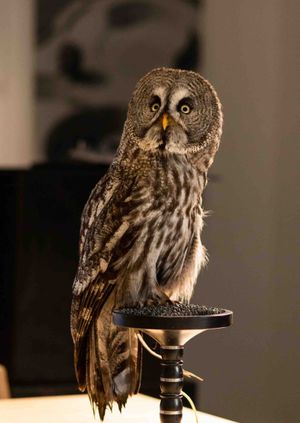 Wild Life Drawing: Winter Owls
14th Dec 2022 7pm - 9pm
Add to Calendar
Event Details
For this year's Christmas Special we have a magical evening planned for you, drawing Winter Owls. We will focus on three stunning species that have adapted to life in cold climates. We'll meet a Northern Hawk Owl- these nimble hunters can locate prey even when it is under a foot of snow. We'll also be joined by a Tawny Owl- their "twit twoo" calls are heard as far north as the sub-arctic forests of Siberia. Finally we will draw the largest species of owl by length- the Great Grey. These strikingly beautiful birds thrive in the icy landscapes of Alaska and Finland. 
The class will be lead by artist and wildlife enthusiast Laura Cuppage, who will get you started with a drawing demo and her top tips for drawing a moving subject. Throughout the session Laura will be on hand with as much creative guidance as you would like. We will provide paper and drawing boards, as well as an array of colourful materials for you to enjoy, but do bring along any of your own favourites if you'd like. The class is open to all- from beginners to advanced. Even if you haven't picked up a pencil in years, we will have you sketching away in no time! Our goal is for you to leave with not only some lovely drawings, but also a greater understanding and appreciation of the animals you've drawn. 
Here at Wild Life Drawing we are a small team who are dedicated to animal welfare. We only ever work with the finest animal handlers, who treat their animals with care and respect, and healthy animals who are happy being around humans. The falconer who keeps these birds is a trusted and experienced specialist who works with the RSPCA to rescue, rehabilitate and re-release wild birds of prey around the South of England.
10% of profits will be donated to The World Owl Trust.