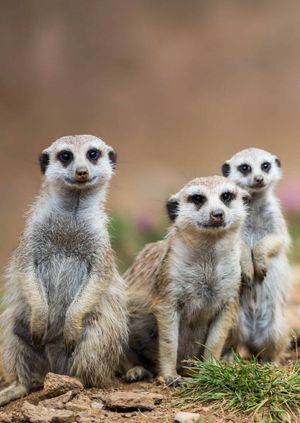 Wild Life Drawing: Meerkats
4th Dec 2022 11am - 1pm
Add to Calendar
Tickets
There are no tickets currently on sale for this event
If you'd like to be notified when more become available enter your email address below.
Event Details
To kick off the festive season, we have a real treat in store for you. We are excited to say that we will be drawing a family of Meerkats! These intelligent animals are highly social, and live in groups known as mobs. The group we'll be drawing have recently had some new additions- three lovely babies who were born in October, who will be coming along with their family to be our models for the day. This will be a wonderful chance to witness the complex socialisation process undertaken by elder meerkats, who will be busy teaching the youngsters the do's and don'ts of mob life.
The class will be lead by artist and wildlife enthusiast Laura Cuppage, who will get you started with a drawing demo, and her top tips for drawing a moving subject. Throughout the session Laura will be on hand with as much creative guidance as you would like. We'll provide paper and drawing boards, as well as an array of colourful materials for you to enjoy, but do bring along any of your own favourites if you'd like. The class is open to all- from beginners to advanced. Even if you haven't picked up a pencil in years, we will have you sketching away in no time! Our goal is for you to leave with not only some lovely drawings, but also a greater understanding and appreciation of the animals you've drawn.
Here at Wild Life Drawing we are a small team who are dedicated to animal welfare. We only ever work with the finest animal handlers, who treat their animals with care and respect, and healthy animals who are happy being around humans.
10% of profits will be donated to South Essex Wildlife Hospital.