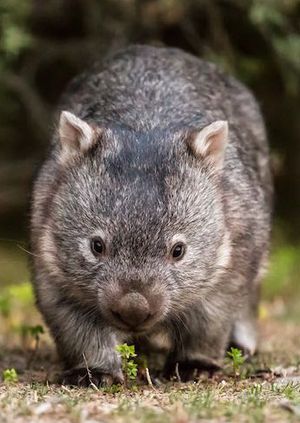 [POSTPONED] Wild Life Drawing Online: Baby Wombats
23rd Oct 2022 11am - 12:30pm
This is a live-stream event
Add to Calendar
Event Details
*Please note, we have had to postpone this class due to unforeseen circumstances for our lovely Wombat Carer. Please bear with us while we arrange a new date.*
For this class we are delighted to be taking a virtual trip down under to draw some utterly adorable Baby Wombats! We will catch up with Lindy (aka Crazy Wombat Lady), wombat coordinator at ACT Wildlife, and some of her superstar animal fosterers.
Our youngest model will be Calli, a tiny "pinky", who just 4 months old and spends most of her time sleeping. Then we have 6 month old Pixie, whose playful character is starting to emerge. Not forgetting best buddies Mimi and Chester, a couple of boisterous toddlers who were paired up together when they were rescued. These two love nothing more than a game of rough and tumble followed by a sleepy snuggle. We could even have a special appearance from a curious wallaby named Posey, who may hop on the call!
The animals we will draw are all are sadly orphans. Tragically, wombats are often hit by cars, and when this happens their babies are sometimes found still alive in their deceased mum's pouch. This is where ACT Wildlife comes in. This fantastic Australian organisation works tirelessly to rescue, rehabilitate and release local wildlife. Their team of volunteers do an amazing job rescuing and caring for wombat joeys who, despite often being in a sorry state when found, have great recovery rates and tend to do really well once released back into the wild.
The class will begin with an introduction from artist and nature enthusiast Laura Cuppage, who will take you through the basics of drawing wombats from life. As this is a live class, our furry models will be on the go while we draw, so Laura will give some handy tips for drawing a moving subject! She will be on hand with plenty of creative advice throughout the session. We will have an introduction to the wombats from Lindy, Sharon and Corin from ACT. While we draw, the team will be happy to answer your questions about Australian animals, and will tell us all about what it's like to be a surrogate mum to a wombat- from the chewed dressing gowns to the round the clock feeds, and of course the cosy cuddles!
The basic materials you need to take part are paper, a pencil, eraser and sharpener, but of course you are more than welcome to work in whatever materials you enjoy or have to hand. Please get in touch if you need advice on materials, we're happy to help! You will be emailed instructions and the Zoom link to join 48 hours before the event is due to start, or in good time if you booked your ticket closer to the event. If you have not received your email 24 hours before the class please check your junk mail or get in touch with Laura on laura@wildlifedrawing.co.uk
50% of profits will be donated to ACT Wildlife.