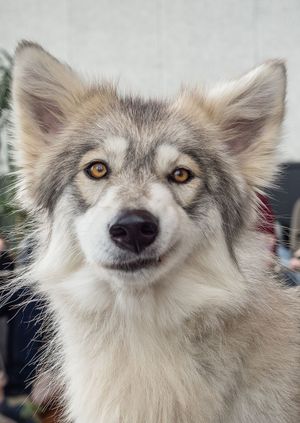 Wild Life Drawing Halloween Special: Wolves
30th Oct 2022 11am - 1pm
Add to Calendar
Event Details
Get ready for some spooky strokes, haunting howls and eerie ears because for Halloween this year we'll be drawing our wonderful wolf pack. These "wolves" are actually British lupine dogs that are perfectly tame and loyal domestic pets as well as being perfect wolf look-a-likes – they have pure wolf in their bloodline. They still retain their pack mentality, eat only raw meat and howl at the full moon – yet love cuddles and roll over for belly rubs! The class will be introduced to the "wolves" with a short talk from canine behavioural scientist and "head wolf" Natalie Lagstrom, and we'll look in detail at their anatomy and how they've evolved to adapt to a variety of habitats across the globe.
As well as drawing these amazing animals, we will discuss current conservation issues facing wolves in the wild – plus the results of their incredible reintroduction to Yellowstone. Our wolf experts are full of facts and will be ready and willing to answer any questions you might have and of course, everyone can have a stroke and a cuddle at the end!
The drawing class is open to all, from beginners to advanced. We will provide paper, drawing boards and a colourful array of materials for you to experiment with, but please do feel free to bring along any specific media that you enjoy using. Drawing tips and guidance will be provided throughout the session, with an in-depth demonstration of how to draw animals from life at the beginning of the class. The aim of these drawing classes is to inspire a sense of appreciation and understanding for the animals and their conservation in the wider world.
At Wild Life Drawing we only ever work with the finest animal handlers, sanctuaries and organisations to put on these events. All the animals that attend the sessions are well used to humans and different environments and are always accompanied by experienced handlers, their welfare is our highest priority.
10% of each ticket will be donated to Wolf Watch UK – a non-profit organisation that provides a remote 100 acre woodland sanctuary in Shropshire for wolves that have been displaced due to zoo closures, dominance fights or excess breeding that would otherwise have been euthanised. They're not open to the public, therefore keeping the environment for the wolves as close to their natural secluded habitat as possible.
Booking with a Gift Voucher
If you would like to book this class with a new gift voucher then please enter the five digit code at checkout to redeem this class. If you have a voucher from another vendor (The Indytute or Not on the High Street) then please email us at info@wildlifedrawing.co.uk quoting the code to book your place on this class.
Tickets are non-refundable but can be transferable to another name. If you have any questions, don't hesitate to get in touch with Emily on: emily@wildlifedrawing.co.uk