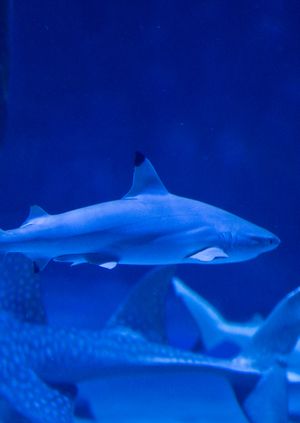 Wild Life Drawing: Sharks
14th Sep 2022 6:30pm - 8:30pm
at SEA LIFE London Aquarium
Add to Calendar
Event Details
This September we are back for another after-hours class at the SEA LIFE London Aquarium to get up close and personal with the Sharks. Our drawing class will focus on the two largest shark tanks in the aquarium; home to Sand Tiger Sharks, Nurse Sharks and White and Black Tip Reef Sharks. As well as these shark species, there are also Southern and Cownose Stingrays and superstar Betty the Bowmouth Guitarfish – half shark/half ray – alongside a multitude of fish. Although we will predominantly be focussing on Sharks, attendees will have free rein of the aquarium to draw from all the species in that area.
The aquarium in Westminster is home to thousands of species of aquatic animals – many rescued or rehomed – and it's tanks collectively hold over 2 million litres of water. The aquarium works closely with it's partner charity, the SEA LIFE Trust, to protect marine wildlife and habitats across the world and to communicate key conservation message to it's visitors. The charity works to increase marine reserves globally, leads campaigns against plastic pollution and overfishing and has just recently opened the world's first Beluga whale sanctuary in Iceland for ex-performing cetaceans. 50% of each ticket sold will be donated to the SEA LIFE Trust!
The class will start with an introduction to the aquarium's marine life and the conservation issues affecting sharks across the globe. Attendees will be able to explore the shark tanks with their drawing boards and helpful hints and guidance will be on hand from workshop leader, artist and animal lover Laura Cuppage. The drawing class is open to all, from beginners to advanced. All drawing materials are supplied, including paper, but please feel free to bring colours or any other specific media you might like to use. Drawing tips and guidance will be provided throughout the session. The aim of these drawing classes is to inspire a sense of appreciation and understanding for the animals and their conservation in the wider world.
Booking with a Gift Voucher
If you would like to book this class with a new gift voucher then please enter the six digit code (random letters and numbers) at checkout to redeem this class. If you have old gift voucher (the code should start with WLD...) or if you have a voucher from another vendor (The Indytute or Not on the High Street) then please email us at info@wildlifedrawing.co.uk quoting the code to book your place on this class.
Using a Ticket in Credit
If you have a ticket in credit and would like to use it for this class, please email info@wildlifedrawing.co.uk with the name and class of the original booking, and we'll be able to book you on manually.
Tickets are non-refundable but can be transferable to another name. If you have any questions, don't hesitate to get in touch with Emily on: emily@wildlifedrawing.co.uk