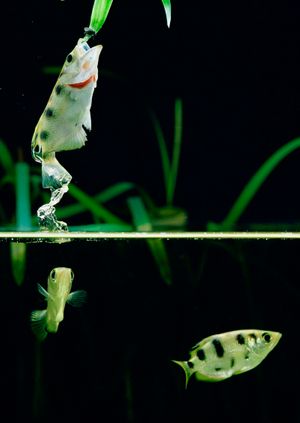 Wild Life Drawing Online: Fantastic Fish
3rd Sep 2022 11am - 12:30pm
This is a live-stream event
Add to Calendar
Event Details
Next in our Animal Behaviour series, we will be diving into the underwater world of Fantastic Fish, with scientists Dagmar der Weduwen, a PhD student at St Andrews University in Scotland and Kent Elson Sorgon, a MSc Zoology student based in the University of the Philippines Los Baños. Dagmar will be introducing us to the unique behaviour of freshwater Archerfish (pictured here) and their amazing hunting method of spitting with perfect precision at insects and small reptiles above water, so that they fall into their waiting open mouths! Kent will be sharing stories of his regular dives down to the colourful coral reefs and his research into how fish communities are structured. During this class we'll be discussing fish behaviour and relationships, proving that fish really do have feelings! We will be sharing facts on the fishing industry, tips on how to eat ethically and ways to use our purchase power to support sustainable fishing projects.
As we chat all about fantastic fish, artist and animal lover Laura Cuppage will take you through a guided tutorial on drawing various fish species from a bumper pack of reference images, starting off with simple shapes, studying the anatomical features and then adding details, colour and texture. She will be on hand throughout the class to help with your drawings, and provide plenty of tips and advice.
The basic materials you need to take part are paper, a pencil, eraser and sharpener, but of course you are more than welcome to work in whatever materials you enjoy or have to hand. Please get in touch if you need advice on materials, we're happy to help! You will be emailed the reference images, instructions and the Zoom link to join 48 hours before the event is due to start, or in good time if you booked your ticket closer to the event. If you have not received your email 24 hours before the class please check your junk mail or get in touch with Emily on emily@wildlifedrawing.co.uk
50% of the ticket profits will be donated to the Animal Behaviour Collective – an organisation that provides mentorship and microgrants for students in Animal Behaviour Research.