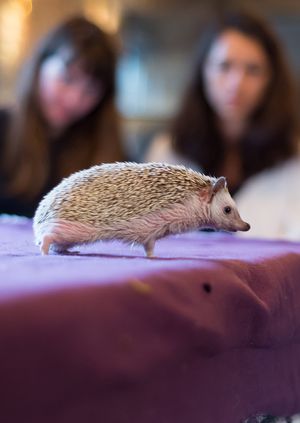 Wild Life Drawing: Garden Animals
20th Aug 2022 11am - 1pm
Add to Calendar
Event Details
Our Summer Holiday Special class this year will be all about Garden Animals – meeting and drawing species that could be frequent visitors to your gardens, with Hoglet the Pygmy Hedgehog, Rabbits, Guinea Pigs, Frogs, Mice, Millipedes, Snakes and Turbo & Speedy, two Giant African Land Snails. Admittedly, some of these animals might be distant cousins to our native British species but we'll be learning how ecosystems work and how to make our own gardens or local green spaces happy homes for wildlife to thrive. We will hear about this amazing collection of animals; learning about their diet, habitat and any conservation or welfare issues affecting these animals. Just to be clear, we won't be drawing any animals taken from the wild, these animals have all been rescued or are rehomed ex-pets, and we will take this opportunity to talk about responsible ownership and the current regulations in the UK around keeping exotic or unusual animals.
The class will begin with an introduction from artist and animal lover Laura Cuppage, who will take you through the basics of drawing animals from life. We will then be introduced to our furry, spiky, scaled and slimy friends, and we'll learn about their particular foraging techniques and evolutionary adaptions as well as how that species is currently doing in the wild. There will be a drawing demonstrations and plenty of helpful hints and creative guidance will be on hand all the way through.
The drawing class is open to all – from beginners to advanced – and families are welcome to bring along children aged 8 and above. All drawing materials are supplied, including paper, but please feel free to bring colours or any other specific media you might like to use. The aim of these drawing classes is to inspire a sense of appreciation and understanding for the animals and their conservation in the wider world.
10% from each ticket will be donated to the South Essex Wildlife Hospital.
Booking with a Gift Voucher
If you would like to book this class with a new gift voucher then please enter the six digit code (random letters and numbers) at checkout to redeem this class. If you have old gift voucher (the code should start with WLD...) or if you have a voucher from another vendor (The Indytute or Not on the High Street) then please email us at info@wildlifedrawing.co.uk quoting the code to book your place on this class.
Using a Ticket in Credit
If you have a ticket in credit and would like to use it for this class, please email info@wildlifedrawing.co.uk with the name and class of the original booking, and we'll be able to book you on manually.
Tickets are non-refundable but can be transferable to another name. If you have any questions, don't hesitate to get in touch with Jennie on: info@wildlifedrawing.co.uk