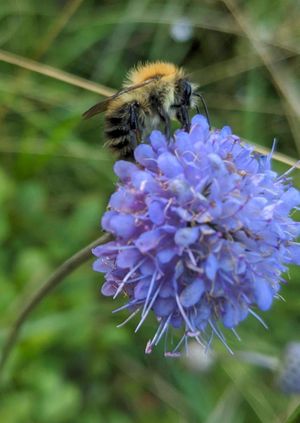 Wild Life Drawing Online: Bumblebees
2nd Aug 2022 7pm - 8:30pm
This is a live-stream event
Add to Calendar
Event Details
Next up in our Animal Behaviour series, we will be zooming in on the wonderful world of Bumblebees with Vivek Nityananda, a behavioural ecologist and research fellow at Newcastle University. Vivek studies the sensory behaviours in animals – specialising in bumblebees and praying mantis – and uses insights from psychology and neuroscience to design experiments comparing different organisms to find fundamental principles in common or contrast. Vivek was the man behind the viral science experiment exploring how praying mantis' see the world by designing the world's smallest pair of 3D glasses!
Whilst we will be touching on this unusual experiment, our main focus of this class is one of everyone's favourite garden visitors – the bumblebee. We'll hear about Vivek's research into attention, stress and decision-making in bumblebees, as well as discussing the threats they face including the effect of pesticides plus what we can do to help in our own gardens or window boxes.
As we chat bees, Wild Life Drawing founder and artist Jennie Webber will take you through a guided tutorial on drawing bumblebees from a bumper pack of reference images, starting off with simple shapes, studying the anatomical features and then adding details, tone and texture. She will be on hand throughout the class to help with your drawings, and provide plenty of tips and advice.
The basic materials you need to take part are paper, a pencil, eraser and sharpener, but of course you are more than welcome to work in whatever materials you enjoy or have to hand. Please get in touch if you need advice on materials, we're happy to help! You will be emailed the reference images, instructions and the Zoom link to join 48 hours before the event is due to start, or in good time if you booked your ticket closer to the event. If you have not received your email 24 hours before the class please check your junk mail or get in touch with Jennie on info@wildlifedrawing.co.uk
50% of the ticket profits will be donated to the Animal Behaviour Collective – an organisation that provides mentorship and microgrants for students in Animal Behaviour Research.