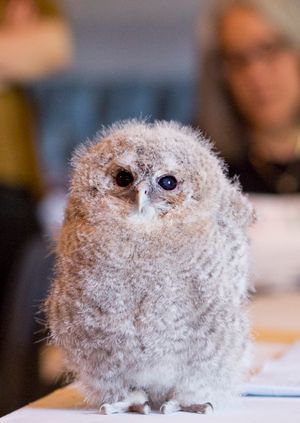 Wild Life Drawing: Baby Owls
4th Jul 2022 7pm - 9pm
Add to Calendar
Event Details
We have SUCH a special treat for you – for this evening class in July we'll be drawing Baby Owls (also known adorably as 'owlets') at the cutest and fluffiest stage of their development. Two African Spotted Eagle Owl siblings will be our "models" for the evening, and at just over 6 weeks old they will be starting to grow in their flight feathers through their downy coat and doing a spot of 'owl yoga' by stretching their limbs and wings. Young birds of prey undergo an incredibly speedy development, from hatchling to fully grown bird in just 12 weeks!
The class will begin with a short talk from our experienced and dedicated falconer and we will learn about mating and reproduction in the owl world, and how good at parenting they really are! Our falconer will be full of facts and funny stories about rearing baby birds and we'll also discuss any conservation issues affecting this species. This class is a rare treat to meet owlets at their cutest, clumsiest and most curious so don't miss out!
This evening class is suitable for both adults and families, with children 8 years and over welcome as long as they are accompanied by an adult also taking part in the class. The drawing class is open to all abilities, from beginners to advanced. We will provide paper, drawing boards and a colourful array of materials for you to experiment with, but please do feel free to bring along any specific media that you enjoy using. Drawing tips and guidance will be provided throughout the session. The aim of these drawing classes is to inspire a sense of appreciation and understanding for the animals and their conservation in the wider world.
At Wild Life Drawing we only ever work with the finest animal handlers, sanctuaries and organisations to put on these events. All the animals that attend the sessions are well used to humans and different environments and are always accompanied by experienced handlers, their welfare is our highest priority. The falconer that keeps these birds is a trusted and experienced animal handler that works with the RSPCA to rescue, rehabilitate and re-release wild birds of prey around the South of England.
Booking with a Gift Voucher
If you would like to book this class with a new gift voucher then please enter the six digit code (random letters and numbers) at checkout to redeem this class. If you have old gift voucher (the code should start with WLD...) or if you have a voucher from another vendor (The Indytute or Not on the High Street) then please email us at info@wildlifedrawing.co.uk quoting the code to book your place on this class.
Using a Ticket in Credit
If you have a ticket in credit and would like to use it for this class, please email info@wildlifedrawing.co.uk with the name and class of the original booking, and we'll be able to book you on manually.
Tickets are non-refundable but can be transferable to another name. If you have any questions, don't hesitate to get in touch with Jennie on: info@wildlifedrawing.co.uk
*The species pictured is actually a baby tawny owl, we'll be drawing African spotted eagle wolf so they will look a little bit different.