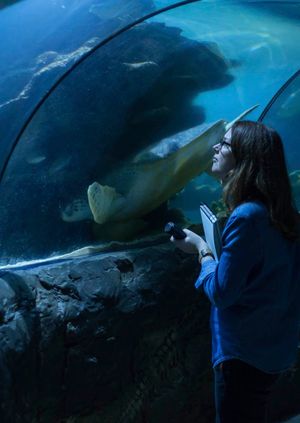 Wild Life Drawing: Sea Turtles
20th Jul 2022 6:30pm - 8:30pm
at SEA LIFE London Aquarium
Add to Calendar
Event Details
Our next underwater adventure at SEA LIFE London Aquarium will be all about Sea Turtles! Sea Turtles are an iconic species, recognised globally as a symbol of the sea. The London Aquarium is home to two rescued green sea turtles by the names of Boris and Gonzales, nicknamed Dougie. They came to SEA LIFE London through a rescue project in the Cayman Islands, and have lived with many other species of marine life in the Aquarium's largest Ocean Tank ever since, feasting upon a daily diet of green veggies. Green sea turtles are named after the layer of green fat that sits underneath their shells.
The class will commence with a short talk from the aquarium team, who will tell us about sea turtle conservation around the world, and the effects of climate change, plastic pollution and the fishing industry on the species. As always, 50% of each ticket price will be donated to the SEA LIFE Trust. Although we will be concentrating on the drawing the sea turtles, attendees will have free rein of the aquarium and will be able to sketch the sharks, fish and rays at their leisure. Aquarium experts will be 'floating' around ready to answer all your underwater questions and workshop leader Jennie Webber will be on hand for drawing tips and guidance. All materials provided, and all ages and abilities welcome!
The drawing class is open to all, from beginners to advanced. All drawing materials are supplied, including paper, but please feel free to bring colours or any other specific media you might like to use. Drawing tips and guidance will be provided throughout the session. The aim of these drawing classes is to inspire a sense of appreciation and understanding for the animals and their conservation in the wider world.
Booking with a Gift Voucher
If you would like to book this class with a new gift voucher then please enter the five digit code in the promo code box at checkout to redeem this class. If you have old gift voucher (the code should start with WLD...) or if you have a voucher from another vendor (The Indytute or Not on the High Street) then please email us at info@wildlifedrawing.co.uk quoting the code to book your place on this class.
Tickets are non-refundable and non-exchangable but can be transferable to another name. If you have any questions, don't hesitate to get in touch with Jennie on: info@wildlifedrawing.co.uk