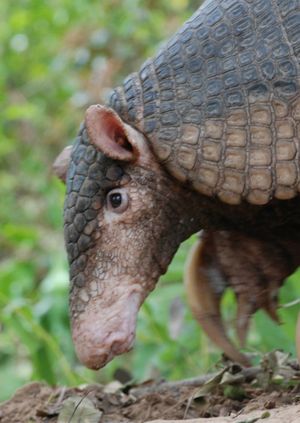 Wild Life Drawing Online: Giant Armadillos
5th Jul 2022 7pm - 8:30pm
This is a live-stream event
Add to Calendar
Event Details
Extremely delighted to be back collaborating with Dr. Arnaud Desbiez and his dedicated team in Brazil to draw another iconic, yet rarely seen, South American animal...the Giant Armadillo! It is the largest of all armadillo species and can reach up to 150cm in length and and up to 50 kilos in weight. Although giant armadillos range over much of South America, very little is known about these mysterious creatures and most information is anecdotal. Sadly the giant armadillo is threatened and is currently classified as vulnerable to extinction.
Fortunately there are people endeavouring to turn around the fate of the species. In addition to their work helping Giant Anteaters, essential research and education projects on Giant Armadillos are being lead by award winning scientist Dr Arnaud Desbiez and his team, some of which you can see here on this BBC documentary. We will be joined online by the project's head veterinarian, Danilo Kluyber MSc who is also supported by Naples Zoo. Danilo will be telling us all about giant armadillos and share his experiences of working in the field with these beautiful animals.
The class will be hosted by artist Laura Cuppage, who will demonstrate a step-by-step drawing tutorial on armadillos. We will be working from a collection of high quality reference images, and Laura will focus on one image for a detailed study. She will guide you through the drawing process, starting off with simple shapes, studying the anatomical features and then adding details and character. There will be plenty of time for questions about both your drawings and the animals.
The basic materials you need to take part are paper, a pencil, eraser and sharpener, but of course you are more than welcome to work in whatever materials you enjoy. or have to hand. Please get in touch if you need advice on materials, we're happy to help! You will be emailed instructions and the Zoom link to join 48 hours before the event is due to start, or in good time if you booked your ticket closer to the event. If you have not received your email 24 hours before the class please check your junk mail or get in touch with Jennie on info@wildlifedrawing.co.uk
50% of the ticket profits from the class will be donated to Giant Armadillos.