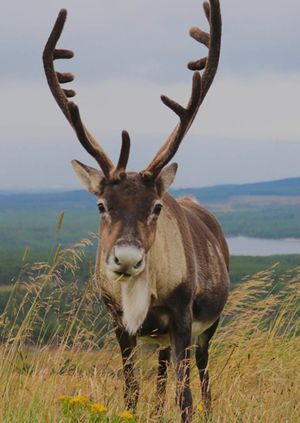 Wild Life Drawing Online: Reindeer
16th Jul 2022 10am - 11:30am
This is a live-stream event
Add to Calendar
Event Details
Don't worry, it's not December yet but we ARE drawing Reindeer. For our next online class we'll be virtually visiting the Cairngorms in Scotland to meet their herd of free-ranging reindeer, who will be in their summer coats and in the process of growing their new sets of antlers. We'll be learning all about reindeer – how they survive in the coldest temperatures, why they grow a new set of antlers every year and the curious reason why they click then they walk! Reindeer expert Andi will be out on the mountainside with the animals, getting a range of viewpoints and telling us all about the history of the herd. Hopefully the weather will be on our side, the class may be scheduled for July but you just never know up in the mountains!
The class will be hosted by WLD founder and illustrator Jennie Webber, who will take you through the basics of drawing reindeer, starting off with simple shapes, studying the anatomical features and then adding details and character. As this is a live class the reindeer will be moving around freely, so Jennie will give you some handy hints for drawing moving models. She will be on hand throughout the class to help with your sketches, and there will be plenty of time for questions about both your drawings and the animals.
The basic materials you need to take part are paper, a pencil, eraser and sharpener, but of course you are more than welcome to work in whatever materials you enjoy or have to hand. Please get in touch if you need advice on materials, we're happy to help! You will be emailed instructions and the Zoom link to join 48 hours before the event is due to start, or in good time if you booked your ticket closer to the event. If you have not received your email 24 hours before the class please check your junk mail or get in touch with Jennie on info@wildlifedrawing.co.uk
50% of ticket profits will be donated to the Cairngorms Reindeer Herd.