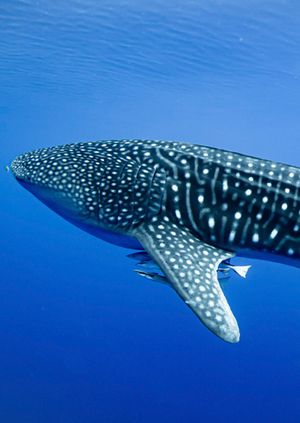 Wild Life Drawing Online: Whale Sharks
14th Jun 2022 7pm - 8:30pm
This is a live-stream event
Add to Calendar
Event Details
Whale Sharks – peaceful, placid and the largest known fish on this planet – will be the stars of our upcoming drawing class in June. These gentle giants are filter feeding sharks, using their giant mouths to sieve out plankton, shrimp and other small fish to eat, similar to Humpbacks and other baleen whales. Slow moving and wide-ranging in warm waters, these sharks can reach up to 18 meters in length and can live up to 150 years old. Despite these facts, there is still so much we don't know about the lives of whale sharks, which are an endangered species. And that's where the Madagascar Whale Shark Project comes in. Founded by Stella Diamant in 2016, initially as a pilot project on the island of Nosy Be (an island off the northern coast of Madagascar), where whale sharks were not studied, the project has identified one of Africa's biggest populations. Stella and her team now direct a collaborative program that monitors whale sharks, while educating local communities and informing the tourism companies on best practice guidelines around these animals.
On the video call we'll be joined by Stella, not just an expert on the whale sharks that visit that part of the world and their behaviour, but also a talented photographer – it'll be her stunning reference images of the sharks that we will be working from during the evening. As well as drawing, we'll be chatting with Stella all about whale sharks and you'll have the opportunity to ask any questions you have.
The class will be hosted by Wild Life Drawing founder and artist Jennie Webber, who will take you through a detailed step-by-step drawing tutorial of whale sharks, starting off with simple shapes, studying the anatomical features and then adding details, patterns and character. She will be on hand throughout the class to help with your drawings, and provide plenty of tips and advice.
The basic materials you need to take part are paper, a pencil, eraser and sharpener, but of course you are more than welcome to work in whatever materials you enjoy or have to hand. Please get in touch if you need advice on materials, we're happy to help! You will be emailed the reference images, instructions and the Zoom link to join 48 hours before the event is due to start, or in good time if you booked your ticket closer to the event. If you have not received your email 24 hours before the class please check your junk mail or get in touch with Jennie on info@wildlifedrawing.co.uk
50% of the ticket profits will be donated to the Madagascar Whale Shark Project.