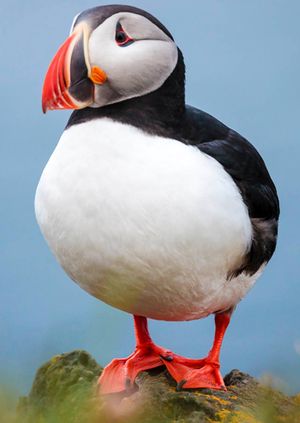 Wild Life Drawing Online: Puffins
21st May 2022 11am - 12:30pm
This is a live-stream event
Add to Calendar
Event Details
Exciting news! In May we'll be drawing the puffins live from the Puffin Rescue Centre in Iceland, part of the Beluga Whale Sanctuary run by the Sea Life Trust. Iceland is home to the largest colony of Atlantic puffins and the centre is the only one of it's kind, taking in puffins and pufflings (baby puffins!) found in Vestmannaeyjar which need a little extra care during the breeding season. Most of these birds are rescued by the local Puffling Patrol, but some are brought in by local residents for review, treatment and release if they are fit and ready.
Some of the puffling patients are not able to be released for various reasons and we will be drawing the five long-term resident puffins at the Sanctuary. Three are not able to fly, one hasn't developed the oils it needs to waterproof her feathers and the last puffin is scared of water (bless!) We will also be learning all about this charismatic bird, it's feeding and breeding habits and any conservation issues that are affecting the wild populations.
The class will begin with an introduction from WLD founder and artist Jennie Webber, who will take you through the basics of drawing animals from life, with a focus on anatomy. There will be a puffin drawing demonstration showing the main shapes and proportions to identify and some handy hints for capturing the feathers and that iconic colourful beak. We will then switch screens to be introduced to the puffins and there will be plenty of creative guidance and feedback available along the way to help you with your drawings.
The basic materials you need to take part are paper, a pencil, eraser and sharpener, but of course you are more than welcome to work in whatever materials you enjoy or have to hand. Please get in touch if you need advice on materials, we're happy to help! You will be emailed the Zoom link to join and 48 hours before the event is due to start, or in good time if you booked last minute. If you haven't received the link, do check your junk mail first and then get in touch and we'll make sure you have it before the event is due to take place. You just need one ticket per device, not per person. Suitable for families and all ages and abilities!
50% of each ticket sold will be donated to the Puffin Rescue Centre.