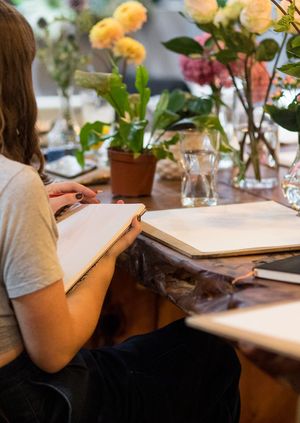 Wild Life Drawing: Botanical Illustration
27th Feb 2022 11am - 1pm
Add to Calendar
Event Details
Join us to celebrate the first signs of Spring and explore the wonderful world of flowers and plants at our upcoming Botanical Illustration workshops.
A variety of ethically sourced and seasonal plants, flowers, and fabulous foliage will provide the subject matter to inspire your artworks. The two hour class will begin with an introduction into the history of botanical illustration and a live demonstration on how to draw flowers, with tips on structure, shading and style.
Everyone will have the opportunity to study the flowers closely, and a colourful variety of materials will be on offer to you to experiment with throughout the class. All abilities are welcome, and workshop leader Jennie Webber will be on hand for tips and advice throughout as well as demonstrating how to work with different media. All ability levels are welcome, from experienced artists looking for an opportunity to experiment to those needing a little more creative guidance. Whatever level of experience you have, I guarantee you'll leave feeling calm, relaxed and mindful. The aim of these drawing classes is to inspire a sense of appreciation and understanding for the natural world and to inform attendees of conservation issues around the globe.
Booking with a Gift Voucher
If you would like to book this class with a new gift voucher then please enter the token code (random letters and numbers) at checkout to redeem this class. If you have old gift voucher (the code should start with WLD...) or if you have a voucher from another vendor (The Indytute or Not on the High Street) then please email us at info@wildlifedrawing.co.uk quoting the code to book your place on this class.
Using a Ticket in Credit
If you have a ticket in credit and would like to use it for this class, please email info@wildlifedrawing.co.uk with the name and class of the original booking, and we'll be able to book you on manually.
Tickets are non-refundable but can be transferable to another name. If you have any questions, don't hesitate to get in touch with Jennie on: info@wildlifedrawing.co.uk