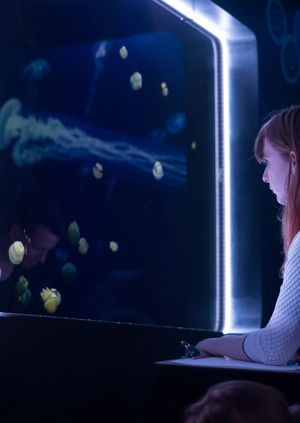 Wild Life Drawing: Jellyfish
8th Feb 2022 6:30pm - 8:30pm
at SEA LIFE London Aquarium
Add to Calendar
2022-02-08 18:30:00
2022-02-08 20:30:00
Europe/London
Wild Life Drawing: Jellyfish
In February we will be back at the London Aquarium for another after-hours aquatic exploration into the weird world of jellyfish. We'll be focussing on capturing the wonderful wibbliness of these ancient organisms on paper, reflecting their translucency and delicacy in the water. There will be plenty of drawing materials with which to experiment, and lots of handy hints and creative advice throughout the class.Now the largest jellyfish facility in the UK, experts at the aquarium – fondly nicknamed "jellyologists" – have been breeding Moon Jellyfish, Sea Nettles, Barrel and Upside Down Jellyfish, with some reaching more than three meters in length! The three stages of the exhibition will explore the lifecycle of these gelatinous creatures, as well as how they thrive, sting and reproduce. Drawing these drifting forms will not only be an enjoyable creative challenge, but a relaxing and meditative experience.Jellyfish are truly unbelievable; they have no brain, heart, blood or bones, but they do have a nervous system, a stomach and reproductive organs. Theirs is a complicated life cycle, growing quickly and living for on average around a year. Feeding on plankton, fish and other jellyfish, they catch prey with their stinging tentacles. While there are approximately 2000 species of jellyfish, only around 70 have stings strong enough to harm humans. And a group of jellyfish is called a smack!The SEA LIFE London Aquarium in Westminster is home to thousands of species of aquatic animals (many of whom are rescues) including penguins, octopi, turtles and stingrays, and is involved in several breeding programs for species such as native rays and seahorses. The aquarium works closely with it's partner charity, the SEA LIFE Trust, to safeguard marine wildlife and habitats across the world, to protect endangered marine animals and to communicate key conservation messages to it's visitors. 50% of each ticket sold will be donated to the SEA LIFE Trust.Booking with a Gift VoucherIf you would like to book this class with a new gift voucher then please enter the five digit code at checkout to redeem this class. If you have old gift voucher (the code should start with WLD...) or if you have a voucher from another vendor (The Indytute or Not on the High Street) then please email us at info@wildlifedrawing.co.uk quoting the code to book your place on this class.Using a Ticket in CreditIf you have a ticket in credit and would like to use it for this class, please email info@wildlifedrawing.co.uk with the name and class of the original booking, and we'll be able to book you on manually.Tickets are non-refundable but can be transferable to another name. If you have any questions, don't hesitate to get in touch with Jennie on: info@wildlifedrawing.co.uk https://wildlifedrawing.eventcube.io/events/36772/wild-life-drawing-jellyfish
County Hall, Westminster Bridge Road, London, SE1 7PB
Event Details
In February we will be back at the London Aquarium for another after-hours aquatic exploration into the weird world of jellyfish. We'll be focussing on capturing the wonderful wibbliness of these ancient organisms on paper, reflecting their translucency and delicacy in the water. There will be plenty of drawing materials with which to experiment, and lots of handy hints and creative advice throughout the class.
Now the largest jellyfish facility in the UK, experts at the aquarium – fondly nicknamed "jellyologists" – have been breeding Moon Jellyfish, Sea Nettles, Barrel and Upside Down Jellyfish, with some reaching more than three meters in length! The three stages of the exhibition will explore the lifecycle of these gelatinous creatures, as well as how they thrive, sting and reproduce. Drawing these drifting forms will not only be an enjoyable creative challenge, but a relaxing and meditative experience.
Jellyfish are truly unbelievable; they have no brain, heart, blood or bones, but they do have a nervous system, a stomach and reproductive organs. Theirs is a complicated life cycle, growing quickly and living for on average around a year. Feeding on plankton, fish and other jellyfish, they catch prey with their stinging tentacles. While there are approximately 2000 species of jellyfish, only around 70 have stings strong enough to harm humans. And a group of jellyfish is called a smack!
The SEA LIFE London Aquarium in Westminster is home to thousands of species of aquatic animals (many of whom are rescues) including penguins, octopi, turtles and stingrays, and is involved in several breeding programs for species such as native rays and seahorses. The aquarium works closely with it's partner charity, the SEA LIFE Trust, to safeguard marine wildlife and habitats across the world, to protect endangered marine animals and to communicate key conservation messages to it's visitors.
50% of each ticket sold will be donated to the SEA LIFE Trust.
Booking with a Gift Voucher
If you would like to book this class with a new gift voucher then please enter the five digit code at checkout to redeem this class. If you have old gift voucher (the code should start with WLD...) or if you have a voucher from another vendor (The Indytute or Not on the High Street) then please email us at info@wildlifedrawing.co.uk quoting the code to book your place on this class.
Using a Ticket in Credit
If you have a ticket in credit and would like to use it for this class, please email info@wildlifedrawing.co.uk with the name and class of the original booking, and we'll be able to book you on manually.
Tickets are non-refundable but can be transferable to another name. If you have any questions, don't hesitate to get in touch with Jennie on: info@wildlifedrawing.co.uk