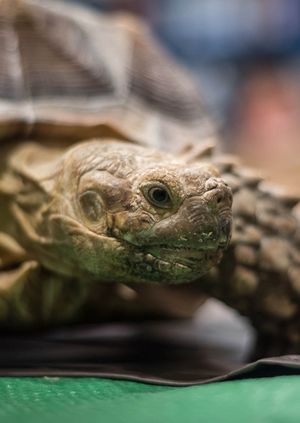 Wild Life Drawing: Animals of the Galapagos
16th Jan 2022 2pm - 4pm
Add to Calendar
2022-01-16 14:00:00
2022-01-16 16:00:00
Europe/London
Wild Life Drawing: Animals of the Galapagos
Come join us in the new year to draw and explore the Galapagos, with some of the most iconic animals from the Islands – tortoises, iguanas, snakes and geckos. We're lucky to welcome back some of our star reptiles; mischievous Deano the Green Iguana and gigantic (but graceful) Dandelion the Sulcata Tortoise. Of course, the animals attending the session are not actually from the Galapagos, but distant cousins of the Giant Tortoises and Marine Iguanas that populate these incredible areas of biodiversity. We'll be learning about the unique ecosystems that exist on the islands and their influence on our own biological understanding of the world. We will also be discussing the variety of conservation projects running on the Islands to preserve this natural area of diversity and some of it's more vulnerable animals. 10% of each ticket sold will be donated to the Galapagos Conservation Trust. As well as drawing the terrific textures and patterns, the reptile handlers will also be full of facts about the animals they've brought along to the session. All animals are rescues visiting from a local reptile sanctuary which gives home to unwanted pets and mistreated animals and runs educational sessions about animal welfare and responsible pet ownership.The drawing class is open to all, from beginners to advanced. Children aged 5 and above are welcome if accompanied by an adult who is also taking part in the class. We will provide paper, drawing boards and a colourful array of materials for you to experiment with, but please do feel free to bring along any specific media that you enjoy using. Drawing tips and guidance will be provided throughout the session, with an in-depth demonstration of how to draw animals from life at the beginning of the class. The aim of these drawing classes is to inspire a sense of appreciation and understanding for the animals and their conservation in the wider world.Wild Life Drawing only ever works with the finest animal handlers, sanctuaries and organisations to put on these events. All the animals that attend the sessions are well used to humans and different environments and are always accompanied by experienced handlers, their welfare is our highest priority. All these reptiles are unwanted pets that have been re-homed by the specialised reptile sanctuary. Money from ticket sales will go towards rescuing and rehoming more reptiles in need.Booking with a Gift VoucherIf you would like to book this class with a new gift voucher then please enter the five digit code at checkout to redeem this class. If you have old gift voucher (the code should start with WLD...) or if you have a voucher from another vendor (The Indytute or Not on the High Street) then please email us at info@wildlifedrawing.co.uk quoting the code to book your place on this class.Tickets are non-refundable but can be transferable to another name. If you have any questions, don't hesitate to get in touch with Jennie on: info@wildlifedrawing.co.uk https://wildlifedrawing.eventcube.io/events/36762/wild-life-drawing-animals-of-the-galapagos
157 Tower Bridge Road, London, SE1 3LW
Event Details
Come join us in the new year to draw and explore the Galapagos, with some of the most iconic animals from the Islands – tortoises, iguanas, snakes and geckos. We're lucky to welcome back some of our star reptiles; mischievous Deano the Green Iguana and gigantic (but graceful) Dandelion the Sulcata Tortoise. Of course, the animals attending the session are not actually from the Galapagos, but distant cousins of the Giant Tortoises and Marine Iguanas that populate these incredible areas of biodiversity. We'll be learning about the unique ecosystems that exist on the islands and their influence on our own biological understanding of the world. We will also be discussing the variety of conservation projects running on the Islands to preserve this natural area of diversity and some of it's more vulnerable animals. 10% of each ticket sold will be donated to the Galapagos Conservation Trust.
As well as drawing the terrific textures and patterns, the reptile handlers will also be full of facts about the animals they've brought along to the session. All animals are rescues visiting from a local reptile sanctuary which gives home to unwanted pets and mistreated animals and runs educational sessions about animal welfare and responsible pet ownership.
The drawing class is open to all, from beginners to advanced. Children aged 5 and above are welcome if accompanied by an adult who is also taking part in the class. We will provide paper, drawing boards and a colourful array of materials for you to experiment with, but please do feel free to bring along any specific media that you enjoy using. Drawing tips and guidance will be provided throughout the session, with an in-depth demonstration of how to draw animals from life at the beginning of the class. The aim of these drawing classes is to inspire a sense of appreciation and understanding for the animals and their conservation in the wider world.
Wild Life Drawing only ever works with the finest animal handlers, sanctuaries and organisations to put on these events. All the animals that attend the sessions are well used to humans and different environments and are always accompanied by experienced handlers, their welfare is our highest priority. All these reptiles are unwanted pets that have been re-homed by the specialised reptile sanctuary. Money from ticket sales will go towards rescuing and rehoming more reptiles in need.
Booking with a Gift Voucher
If you would like to book this class with a new gift voucher then please enter the five digit code at checkout to redeem this class. If you have old gift voucher (the code should start with WLD...) or if you have a voucher from another vendor (The Indytute or Not on the High Street) then please email us at info@wildlifedrawing.co.uk quoting the code to book your place on this class.
Tickets are non-refundable but can be transferable to another name. If you have any questions, don't hesitate to get in touch with Jennie on: info@wildlifedrawing.co.uk