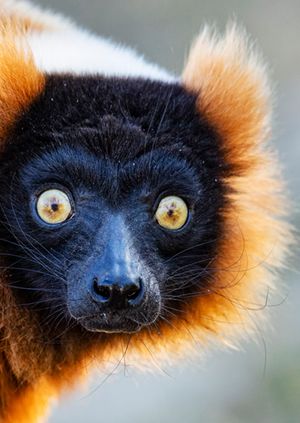 Wild Life Drawing Online: Lemurs
23rd Feb 2022 7pm - 8:30pm
This is a live-stream event
Add to Calendar
2022-02-23 19:00:00
2022-02-23 20:30:00
Europe/London
Wild Life Drawing Online: Lemurs
For this online class we will be focusing on the most endangered family of primates on earth- Lemurs. There are over 100 species of lemur, all of which are native to the island of Madagascar. This amazing group are the worlds oldest primates. Scientists believe that lemur like animals reached Madagascar 65 million years ago, rafting across the Indian Ocean on floating vegetation, and then evolved into the diverse group of animals living there today! Believe it or not, some of these ancient creatures were as big as gorillas, and roamed the island as little as 1000 years ago! Lemurs are considered to be an "Umbrella Species" which means they are a vital species to protect in order to help Madagascan flora and fauna more broadly. By spreading pollen and dispersing seeds, lemurs significantly contribute to the health of their tropical forest habitats. Now, having said that lemurs are only native to Madagascar, you may be surprised to learn that for this class we will be heading to sunny Florida! This is because we are going to be live streaming with the fantastic Lemur Conservation Foundation whose top of the range lemur facilities are based there. LCF have an ambitious and inspiring goal- to save lemurs from extinction. Through their research, breeding programmes and educational work they are making a huge contribution to the survival of this unique group of animals. We are thrilled to be working with them, and to be joined online by Deborah Millman, the executive director of the organisation. Deborah will teach us all about lemurs and the exciting work going on at the facility. LCF is home to five types of lemur- Red Ruffs (pictured here), Mongoose Lemurs, Collared Brown, Common Brown and Ring Tailed. We will try to spot as many of the species as we can, but because they are free to roam in large forest enclosures, we will have a back up of some gorgeous reference images to work from if some of them aren't feeling camera ready on the day. The class will be hosted by Wild Life Drawing founder and artist Jennie Webber, who will take you through the basics of drawing lemurs, starting off with simple shapes, studying the anatomical features and then adding details and character. As this is a live class the lemurs will be moving around freely, so Jennie will give you some useful tips for drawing moving models. She will be on hand throughout the class to help with your sketches, and there will be plenty of time for questions about both your drawings and the animals. The basic materials you need to take part are paper, a pencil, eraser and sharpener, but of course you are more than welcome to work in whatever materials you enjoy or have to hand. Please get in touch if you need advice on materials, we're happy to help! You will be emailed instructions and the Zoom link to join 48 hours before the event is due to start, or in good time if you booked your ticket closer to the event. If you have not received your email 24 hours before the class please check your junk mail or get in touch with Jennie on info@wildlifedrawing.co.uk50% of your ticket price will be donated to Lemur Conservation Foundation. https://wildlifedrawing.eventcube.io/events/36707/wild-life-drawing-online-lemurs
Live virtual stream event
Event Details
For this online class we will be focusing on the most endangered family of primates on earth- Lemurs. There are over 100 species of lemur, all of which are native to the island of Madagascar. This amazing group are the worlds oldest primates. Scientists believe that lemur like animals reached Madagascar 65 million years ago, rafting across the Indian Ocean on floating vegetation, and then evolved into the diverse group of animals living there today! Believe it or not, some of these ancient creatures were as big as gorillas, and roamed the island as little as 1000 years ago! Lemurs are considered to be an "Umbrella Species" which means they are a vital species to protect in order to help Madagascan flora and fauna more broadly. By spreading pollen and dispersing seeds, lemurs significantly contribute to the health of their tropical forest habitats.
Now, having said that lemurs are only native to Madagascar, you may be surprised to learn that for this class we will be heading to sunny Florida! This is because we are going to be live streaming with the fantastic Lemur Conservation Foundation whose top of the range lemur facilities are based there. LCF have an ambitious and inspiring goal- to save lemurs from extinction. Through their research, breeding programmes and educational work they are making a huge contribution to the survival of this unique group of animals.
We are thrilled to be working with them, and to be joined online by Deborah Millman, the executive director of the organisation. Deborah will teach us all about lemurs and the exciting work going on at the facility. LCF is home to five types of lemur- Red Ruffs (pictured here), Mongoose Lemurs, Collared Brown, Common Brown and Ring Tailed. We will try to spot as many of the species as we can, but because they are free to roam in large forest enclosures, we will have a back up of some gorgeous reference images to work from if some of them aren't feeling camera ready on the day.
The class will be hosted by Wild Life Drawing founder and artist Jennie Webber, who will take you through the basics of drawing lemurs, starting off with simple shapes, studying the anatomical features and then adding details and character. As this is a live class the lemurs will be moving around freely, so Jennie will give you some useful tips for drawing moving models. She will be on hand throughout the class to help with your sketches, and there will be plenty of time for questions about both your drawings and the animals.
The basic materials you need to take part are paper, a pencil, eraser and sharpener, but of course you are more than welcome to work in whatever materials you enjoy or have to hand. Please get in touch if you need advice on materials, we're happy to help! You will be emailed instructions and the Zoom link to join 48 hours before the event is due to start, or in good time if you booked your ticket closer to the event. If you have not received your email 24 hours before the class please check your junk mail or get in touch with Jennie on info@wildlifedrawing.co.uk
50% of your ticket price will be donated to Lemur Conservation Foundation.