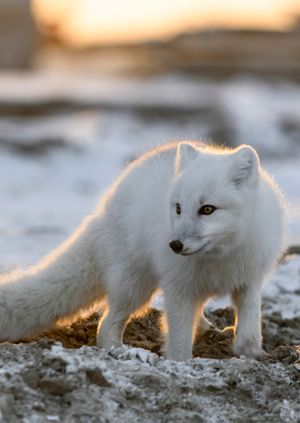 Wild Life Drawing Online: Arctic Foxes
15th Jan 2022 11am - 12:30pm
This is a live-stream event
Add to Calendar
Event Details
**A little note – we had to move the Arctic Fox class from the 8th to the 15th January due to a date clash, sorry for any inconvenience caused! All ticket holders have been notified**
We start the year with a bang by drawing a truly stunning species synonymous with the height of winter- the Arctic Fox. These beauties live in the coldest regions of the northern hemisphere, which is why they have developed the thick, fluffy coats they are known for. During winter their fur is a striking pure white (which provides great camouflage for hunting in the snow) while the summer months see it change to a greyish brown. Unfortunately Arctic Foxes have been exploited by humans (what animal hasn't?) in the fur trade for many years, and more recently in the illegal exotic pet trade.
For this live class we will be revisiting Ark Wildlife Park, where we will be hosted by the sanctuary's founder, Jamie. He created Ark in order to help combat the suffering caused by exotic animal trading, which is a highly profitable illegal industry that is often run by the same organised criminals who traffic humans. Through their work at Ark, Jamie and his team have been able to improve the lives of hundreds of animals over the years, rescuing and rehoming an array of gorgeous creatures who thankfully now lead happy lives and are properly cared for. When a zoo here in the U.K. had to close down earlier this year, Ark agreed to give a home to a pair of Arctic Foxes who were on show there. Little did they know the female was pregnant, and not long after arriving at the sanctuary, she gave birth to 14 healthy pups! We will be live streaming to their enclosure and will meet the whole family- Mittens, Marshmallow and Duck to name just a few.
The class will be hosted by Wild Life Drawing founder and artist Jennie Webber, who will take you through the basics of drawing Arctic Foxes, starting off with simple shapes, studying the anatomical features and then adding details and character. As this is a live class the foxes will be moving around freely, so Jennie will give you some handy hints for drawing moving models. She will be on hand throughout the class to help with your sketches, and there will be plenty of time for questions about both your drawings and the animals.
The basic materials you need to take part are paper, a pencil, eraser and sharpener, but of course you are more than welcome to work in whatever materials you enjoy or have to hand. Please get in touch if you need advice on materials, we're happy to help! You will be emailed instructions and the Zoom link to join 48 hours before the event is due to start, or in good time if you booked your ticket closer to the event. If you have not received your email 24 hours before the class please check your junk mail or get in touch with Jennie on info@wildlifedrawing.co.uk
50% of your ticket price will be donated to Ark Wildlife Park.