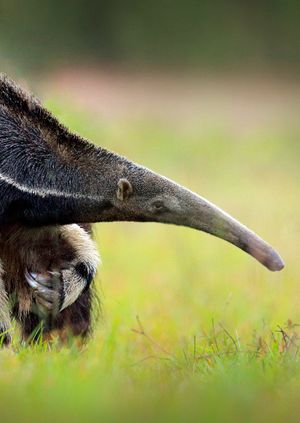 Wild Life Drawing Online: Giant Anteaters
26th Jan 2022 7pm - 8:30pm
This is a live-stream event
Add to Calendar
Event Details
For our next class we'll be drawing an iconic South American animal that boasts what must be the best snout in the game- the Giant Anteater! These amazing creatures can reach sizes of up to 8 ft, and while fierce enough to defend themselves from a puma or jaguar if necessary, feast solely on ants and termites. By tearing open anthills with their large claws and then poking their long, sticky tongues deep into the colony, they are able to lap up around 30,000 insects a day!
Unfortunately giant anteaters are classified as critically endangered. Habitat loss and road collisions are the main factors causing their decline, and the ever expanding network of highways being built across their homelands is only making these issues worse.
Thankfully there are people endeavouring to turn around the fate of the species. For this class we are delighted to be collaborating with a fantastic Brazilian organisation who are working hard to tackle the problem- Anteaters and Highways lead by award winning scientist Dr Arnaud Desbiez. He and his team are conducting a four year research project in the tropical savannah region of Cerrado to investigate and address giant anteater road mortality. We will be joined online by the project's head veterinarian, Danilo Kluyber MSc. Danilo will teach us all about giant anteaters and share his experiences of working in the field with these beautiful animals.
The class will be hosted by artist Laura Cuppage, who will demonstrate a step-by-step drawing tutorial on anteaters. We will be working from a collection of high quality reference images, and Laura will focus on one image for a detailed study. She will guide you through the drawing process, starting off with simple shapes, studying the anatomical features and then adding details and character. There will be plenty of time for questions about both your drawings and the animals.
The basic materials you need to take part are paper, a pencil, eraser and sharpener, but of course you are more than welcome to work in whatever materials you enjoy. or have to hand. Please get in touch if you need advice on materials, we're happy to help! You will be emailed instructions and the Zoom link to join 48 hours before the event is due to start, or in good time if you booked your ticket closer to the event. If you have not received your email 24 hours before the class please check your junk mail or get in touch with Jennie on info@wildlifedrawing.co.uk
50% of your ticket price will be donated to Anteaters and Highways.