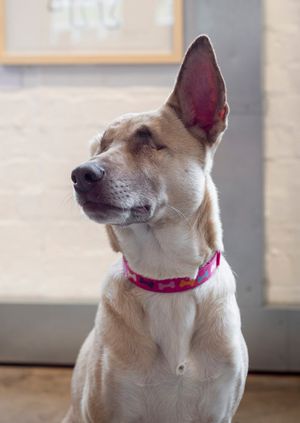 Wild Life Drawing: Remarkable Rescues
5th Dec 2021 12pm - 2pm
Add to Calendar
2021-12-05 12:00:00
2021-12-05 14:00:00
Europe/London
Wild Life Drawing: Remarkable Rescues
Our Christmas Special this year is all about Remarkable Rescues; dogs that have overcome all odds to survive and thrive with specialist treatment and loving new homes. Dogs that would have almost certainly been left to suffer and die without the work of Wild at Heart Foundation. With the help of dog charities overseas providing initial treatment and shelter, WAHF were able to use social media to spread awareness and raise money to bring these dogs to the UK and secure them the specialist surgery, after-care and loving forever homes.We will be drawing and having our hearts stolen by the wonderful Maggie (pictured here) who was rescued from Lebanon after being subject to horrendous abuse at the hands of humans – she was shot multiple times in the face and her ear was cut off. Despite her history, Maggie is calm, trusting and confident walking independently with her dedicated owner Kasey. Maggie has also trained as a therapy dog, bringing much joy to the people that she visits in schools, hospitals and care homes. We'll also be joined by Maggie's adoptive sisters Millie and Mishka – both with their own painful and difficult past lives – who have also been adopted by Kasey, creating a close knit furry family that is full of love! As well as drawing these beauties, we will hear about some of the abuse suffered by dogs in countries where the laws protecting animals are not reinforced, and learn about some of the success stories, where special dogs have been able to have specialist surgery funded by donations and how we can get involved to help!£10 from the price of each ticket will be donated to Wild at Heart Foundation – and we'll be joined by members of their team (along with their rescue dogs) to tell us all in person about some of the neutering projects they run overseas and how they're working to combat the brutal mistreatment suffered by strays, plus advice on ways we can get involved to help. This charity works to compassionately reduce the world's 600 million stray dog population by organising rescue projects, neutering programmes and education initiatives.The drawing class is open to all, from beginners to advanced. Children aged 8 and above are welcome if accompanied by an adult partaking in the class. We will provide paper, drawing boards and a colourful array of materials for you to experiment with, but please do feel free to bring along any specific media that you enjoy using. Drawing tips and guidance will be provided throughout the session, with an in-depth demonstration of how to draw animals from life at the beginning of the class. The aim of these drawing classes is to inspire a sense of appreciation and understanding for the animals and their conservation in the wider world.Wild Life Drawing only ever works with the finest animal handlers, sanctuaries and organisations to put on these events. All the animals that attend the sessions are well used to humans and different environments and are always accompanied by experienced handlers, their welfare is our highest priority. For this class we are only drawing dogs that are happy around humans and comfortable in different environments with plenty of treats and toys to keep them occupied. Booking with a Gift VoucherIf you would like to book this class with a new gift voucher then please enter the six digit code (random letters and numbers) at checkout to redeem this class. If you have old gift voucher (the code should start with WLD...) or if you have a voucher from another vendor (The Indytute or Not on the High Street) then please email us at info@wildlifedrawing.co.uk quoting the code to book your place on this class.Using a Ticket in CreditIf you have a ticket in credit and would like to use it for this class, please email info@wildlifedrawing.co.uk with the name and class of the original booking, and we'll be able to book you on manually.Tickets are non-refundable but can be transferable to another name. If you have any questions, don't hesitate to get in touch with Jennie on: info@wildlifedrawing.co.uk https://wildlifedrawing.eventcube.io/events/36356/wild-life-drawing-remarkable-rescues
8 Patriot Square, London, E2 9NF
Event Details
Our Christmas Special this year is all about Remarkable Rescues; dogs that have overcome all odds to survive and thrive with specialist treatment and loving new homes. Dogs that would have almost certainly been left to suffer and die without the work of Wild at Heart Foundation. With the help of dog charities overseas providing initial treatment and shelter, WAHF were able to use social media to spread awareness and raise money to bring these dogs to the UK and secure them the specialist surgery, after-care and loving forever homes.
We will be drawing and having our hearts stolen by the wonderful Maggie (pictured here) who was rescued from Lebanon after being subject to horrendous abuse at the hands of humans – she was shot multiple times in the face and her ear was cut off. Despite her history, Maggie is calm, trusting and confident walking independently with her dedicated owner Kasey. Maggie has also trained as a therapy dog, bringing much joy to the people that she visits in schools, hospitals and care homes. We'll also be joined by Maggie's adoptive sisters Millie and Mishka – both with their own painful and difficult past lives – who have also been adopted by Kasey, creating a close knit furry family that is full of love! As well as drawing these beauties, we will hear about some of the abuse suffered by dogs in countries where the laws protecting animals are not reinforced, and learn about some of the success stories, where special dogs have been able to have specialist surgery funded by donations and how we can get involved to help!
£10 from the price of each ticket will be donated to Wild at Heart Foundation – and we'll be joined by members of their team (along with their rescue dogs) to tell us all in person about some of the neutering projects they run overseas and how they're working to combat the brutal mistreatment suffered by strays, plus advice on ways we can get involved to help. This charity works to compassionately reduce the world's 600 million stray dog population by organising rescue projects, neutering programmes and education initiatives.
The drawing class is open to all, from beginners to advanced. Children aged 8 and above are welcome if accompanied by an adult partaking in the class. We will provide paper, drawing boards and a colourful array of materials for you to experiment with, but please do feel free to bring along any specific media that you enjoy using. Drawing tips and guidance will be provided throughout the session, with an in-depth demonstration of how to draw animals from life at the beginning of the class. The aim of these drawing classes is to inspire a sense of appreciation and understanding for the animals and their conservation in the wider world.
Wild Life Drawing only ever works with the finest animal handlers, sanctuaries and organisations to put on these events. All the animals that attend the sessions are well used to humans and different environments and are always accompanied by experienced handlers, their welfare is our highest priority. For this class we are only drawing dogs that are happy around humans and comfortable in different environments with plenty of treats and toys to keep them occupied.
Booking with a Gift Voucher
If you would like to book this class with a new gift voucher then please enter the six digit code (random letters and numbers) at checkout to redeem this class. If you have old gift voucher (the code should start with WLD...) or if you have a voucher from another vendor (The Indytute or Not on the High Street) then please email us at info@wildlifedrawing.co.uk quoting the code to book your place on this class.
Using a Ticket in Credit
If you have a ticket in credit and would like to use it for this class, please email info@wildlifedrawing.co.uk with the name and class of the original booking, and we'll be able to book you on manually.
Tickets are non-refundable but can be transferable to another name. If you have any questions, don't hesitate to get in touch with Jennie on: info@wildlifedrawing.co.uk