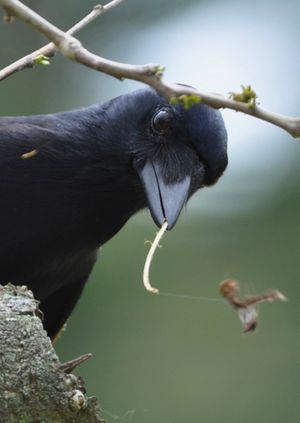 Wild Life Drawing Online: Clever Corvids
8th Dec 2021 7pm - 8:30pm
This is a live-stream event
Add to Calendar
2021-12-08 19:00:00
2021-12-08 20:30:00
Europe/London
Wild Life Drawing Online: Clever Corvids
We are excited to announce the second class in our Animal Behaviour series, and this time we will be exploring the crafty and cunning world of Clever Corvids, a family which includes crows, ravens, rooks and magpies. All corvids have large brains and display innovative behaviour, but two species have taken things a step further. New Caledonian Crows and Hawaiian Crows are known to actually design and use tools. By creating hooks from barbed leaves and sticks, they are able to extract larvae from deadwood which would otherwise be out of reach. There is so much to learn about this fascinating area of biology and who better to enlighten us about the subject than Dr. Barbara Klump, a behavioural ecologist that has dedicated her life to researching tool use in crows. Barbara spent her PhD conducting a series of detailed studies into the unique behaviours of both Caledonian and Hawaiian crows. Her findings have shown that 90% of adults in these species use tools, and that doing so significantly improves their success when foraging. As we draw, we'll be hearing from Barbara all about these unusual evolutionary characteristics, and she will be more than happy to answer all of your corvid queries! The class will be hosted by Wild Life Drawing founder and artist Jennie Webber, who will take you through the basics of drawing crows from a pack of reference images, starting off with simple shapes, studying the anatomical features and then adding details and character. She will be on hand throughout the class to help with your drawings, and provide plenty of tips and advice.The basic materials you need to take part are paper, a pencil, eraser and sharpener, but of course you are more than welcome to work in whatever materials you enjoy or have to hand. Please get in touch if you need advice on materials, we're happy to help! You will be emailed the reference images, instructions and the Zoom link to join 48 hours before the event is due to start, or in good time if you booked your ticket closer to the event. If you have not received your email 24 hours before the class please check your junk mail or get in touch with Jennie on info@wildlifedrawing.co.uk50% of your ticket price will be donated to the Animal Behaviour Collective – an organisation that provides mentorship and microgrants for students in Animal Behaviour Research.  https://wildlifedrawing.eventcube.io/events/35968/wild-life-drawing-online-clever-corvids
Live virtual stream event
Event Details
We are excited to announce the second class in our Animal Behaviour series, and this time we will be exploring the crafty and cunning world of Clever Corvids, a family which includes crows, ravens, rooks and magpies. All corvids have large brains and display innovative behaviour, but two species have taken things a step further. New Caledonian Crows and Hawaiian Crows are known to actually design and use tools. By creating hooks from barbed leaves and sticks, they are able to extract larvae from deadwood which would otherwise be out of reach.
There is so much to learn about this fascinating area of biology and who better to enlighten us about the subject than Dr. Barbara Klump, a behavioural ecologist that has dedicated her life to researching tool use in crows. Barbara spent her PhD conducting a series of detailed studies into the unique behaviours of both Caledonian and Hawaiian crows. Her findings have shown that 90% of adults in these species use tools, and that doing so significantly improves their success when foraging. As we draw, we'll be hearing from Barbara all about these unusual evolutionary characteristics, and she will be more than happy to answer all of your corvid queries!
The class will be hosted by Wild Life Drawing founder and artist Jennie Webber, who will take you through the basics of drawing crows from a pack of reference images, starting off with simple shapes, studying the anatomical features and then adding details and character. She will be on hand throughout the class to help with your drawings, and provide plenty of tips and advice.
The basic materials you need to take part are paper, a pencil, eraser and sharpener, but of course you are more than welcome to work in whatever materials you enjoy or have to hand. Please get in touch if you need advice on materials, we're happy to help! You will be emailed the reference images, instructions and the Zoom link to join 48 hours before the event is due to start, or in good time if you booked your ticket closer to the event. If you have not received your email 24 hours before the class please check your junk mail or get in touch with Jennie on info@wildlifedrawing.co.uk
50% of your ticket price will be donated to the Animal Behaviour Collective – an organisation that provides mentorship and microgrants for students in Animal Behaviour Research.