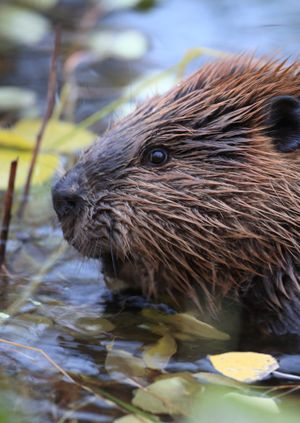 Wild Life Drawing Online: Beavers
1st Dec 2021 7pm - 8:30pm
This is a live-stream event
Add to Calendar
2021-12-01 19:00:00
2021-12-01 20:30:00
Europe/London
Wild Life Drawing Online: Beavers
Next we're going to be exploring a really exciting development for British ecosystems; the reintroduction of Beavers! Beavers were once common in Britain but were sadly wiped out by hunting in the 16th Century. They are considered a keystone species because their behaviour has a big impact on their environments. Their dams slow waterways and so create wetlands, which benefit countless other species in the areas where they live. More and more evidence is pointing to the potential that having a healthy beaver population across the UK would also provide a reduction in flooding. Oh, and they significantly reduce pollution while they're at it, as their dams act as water filters. Pretty impressive eh? There is so much to learn about this fascinating species, which is why we are excited to be joined by Jana Sirova, a beaver expert who works at the Cornish Seal Sanctuary. She will tell us all about "The Secret Creek", the CSS's own beaver reintroduction project. In a large woodland enclosure in Cornwall, the team are studying the behaviour of three rescued V.I.B's (very important beavers) named Twiggy, Barbara and Norbert – all still young kits at only a year old. We will be drawing the trio from high quality reference material, while hearing all about how the project is going. The class will be hosted by Wild Life Drawing founder and artist Jennie Webber, who will take you through the basics of drawing beavers, starting off with simple shapes, studying the anatomical features and then adding details and character. She will be on hand throughout the class to help with your drawings, and provide plenty of tips and advice.The basic materials you need to take part are paper, a pencil, eraser and sharpener, but of course you are more than welcome to work in whatever materials you enjoy or have to hand. Please get in touch if you need advice on materials, we're happy to help! You will be emailed instructions and the Zoom link to join 48 hours before the event is due to start, or in good time if you booked your ticket closer to the event. If you have not received your email 24 hours before the class please check your junk mail or get in touch with Jennie on info@wildlifedrawing.co.uk50% of your ticket price will be donated to The Cornish Seal Sanctuary. https://wildlifedrawing.eventcube.io/events/35941/wild-life-drawing-online-beavers
Live virtual stream event
Event Details
Next we're going to be exploring a really exciting development for British ecosystems; the reintroduction of Beavers! Beavers were once common in Britain but were sadly wiped out by hunting in the 16th Century. They are considered a keystone species because their behaviour has a big impact on their environments. Their dams slow waterways and so create wetlands, which benefit countless other species in the areas where they live. More and more evidence is pointing to the potential that having a healthy beaver population across the UK would also provide a reduction in flooding. Oh, and they significantly reduce pollution while they're at it, as their dams act as water filters. Pretty impressive eh?
There is so much to learn about this fascinating species, which is why we are excited to be joined by Jana Sirova, a beaver expert who works at the Cornish Seal Sanctuary. She will tell us all about "The Secret Creek", the CSS's own beaver reintroduction project. In a large woodland enclosure in Cornwall, the team are studying the behaviour of three rescued V.I.B's (very important beavers) named Twiggy, Barbara and Norbert – all still young kits at only a year old. We will be drawing the trio from high quality reference material, while hearing all about how the project is going.
The class will be hosted by Wild Life Drawing founder and artist Jennie Webber, who will take you through the basics of drawing beavers, starting off with simple shapes, studying the anatomical features and then adding details and character. She will be on hand throughout the class to help with your drawings, and provide plenty of tips and advice.
The basic materials you need to take part are paper, a pencil, eraser and sharpener, but of course you are more than welcome to work in whatever materials you enjoy or have to hand. Please get in touch if you need advice on materials, we're happy to help! You will be emailed instructions and the Zoom link to join 48 hours before the event is due to start, or in good time if you booked your ticket closer to the event. If you have not received your email 24 hours before the class please check your junk mail or get in touch with Jennie on info@wildlifedrawing.co.uk
50% of your ticket price will be donated to The Cornish Seal Sanctuary.