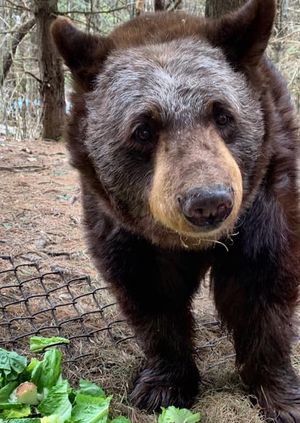 Wild Life Drawing Online: Black Bears
27th Oct 2021 7pm - 8:30pm
This is a live-stream event
Add to Calendar
Event Details
Next up in our online program, we will be studying some seriously charming Black Bears. Native to North America, black bear populations span all the way from Canada to Northern Mexico. They typically live in forests and are expert tree climbers, but are also found in mountains and swamps and are excellent swimmers. Despite their name, black bears can be blue-grey, blue-black, brown, or (very rarely) white. These majestic creatures are solitary and roam large territories, which can cover as much as 80 square miles.
To discover more, we'll be teaming up Aspen Valley Wildlife Sanctuary in Ontario Canada – who have been rescuing injured, orphaned and mistreated bears for over 40 years, releasing rehabilitated animals back into the wild whenever possible.
We will be drawing and hearing about five beautiful bears who are residents at Aspen Valley – Clyde, Furley, Honey Pot, Clover and Mama Bear – from a pack of reference imagery and footage. Autumn is the time of year when wild black bears are at their heaviest- up to 30% more so than than in summer- as they have spent the last few months gorging themselves on berries, insects and fish to prepare for hibernation. We will learn all about this process as well as black bear breeding habits and behaviour, and the threats facing their species in the wild.
The class will be hosted by Wild Life Drawing founder and artist Jennie Webber, who will take you through drawing bears step-by-step, starting off with simple shapes, studying the anatomical features and then adding details and character. We will also be joined by Sarah who is a committed volunteer at Aspen Valley. She will tell us all about the inspiring work her and the sanctuary team do, and answer your questions.
The basic materials you need to take part are paper, a pencil, eraser and sharpener, but of course you are more than welcome to work in whatever materials you enjoy or have to hand. Please get in touch if you need advice on materials, we're happy to help! You will be emailed instructions and the Zoom link to join 48 hours before the event is due to start, or in good time if you booked your ticket closer to the event. If you have not received your email 24 hours before the class please check your junk mail or get in touch with Jennie on info@wildlifedrawing.co.uk
50% of your ticket price will be donated to Aspen Valley Wildlife Sanctuary.