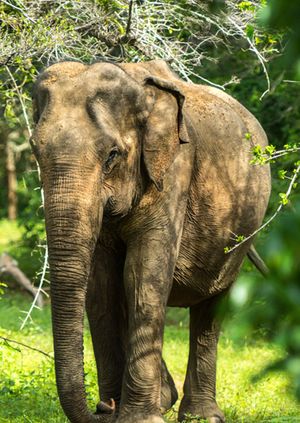 Wild Life Drawing Online: Elephants
4th Dec 2021 9am - 10:30am
This is a live-stream event
Add to Calendar
Event Details
A very special class indeed – this time we'll be zooming with two rescued Asian Elephants as they take an amble through the Laos jungle. We will join our elephants up the mountain at Mandalao Elephant Sanctuary and spend some time sketching them as they enjoy a feast of banana shoots, mangoes and pineapple tops. Once their bellies are nice and full we will wander back down the mountain towards the sanctuary, via their favourite mango tree, as we chat with the team there and learn all about asian elephants. Due to the time difference this class will be a bit earlier than usual, as our regular morning session would be past the elephant's bedtime. We promise it'll be worth setting your alarm for.
For this live session we are delighted to be working with the wonderful team at Mandalao Elephant Sanctuary in Laos, who rescue elephants from mistreatment and exploitation in the logging and tourism industries. The elephants in their care are able to live out their lives in the peaceful surroundings of the jungle, where they are given the freedom to roam and forage everyday, and are treated with respect and care. Many so called "sanctuaries" in this part of Asia offer elephant rides and experiences which aren't actually enjoyable for these intelligent animals, but at Mandalao interaction with visitors is always lead by the elephants. They won't say no to being fed a banana or two, or being accompanied on a walk, but are never ridden or forced to entertain.
The class will begin with an introduction from Wild Life Drawing founder and artist Jennie Webber, who will provide a step-by-step guide to drawing asian elephants from life. We will be also joined by Roice Davis – a dedicated member of the Mandalao team – who'll be teaching us all about the elephants, their stories, and the dedicated work he and his colleagues do to improve the lives of these magnificent creatures. There will of course be plenty of opportunity for all of your elephant questions.
The basic materials you need to take part are paper, a pencil, eraser and sharpener, but of course you are more than welcome to work in whatever materials you enjoy or have to hand. Please get in touch if you need advice on materials, we're happy to help! You will be emailed instructions and the Zoom link to join 48 hours before the event is due to start, or in good time if you booked your ticket closer to the event. If you have not received your email 24 hours before the class please check your junk mail or get in touch with Jennie on info@wildlifedrawing.co.uk
50% of your ticket price will be donated to Mandalao Elephant Sanctuary.