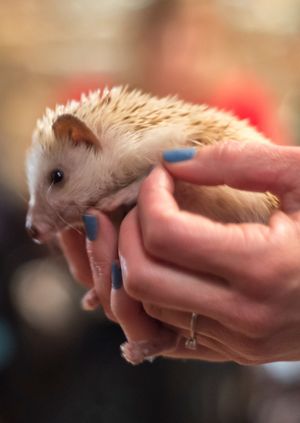 Wild Life Drawing: Micro-mammals
16th Oct 2021 11am - 1pm
Add to Calendar
Event Details
In October we'll be meeting a menagerie of Micro-mammals at The Depot, for a day of drawing, learning and perhaps a little bit of stroking too! We will meet a variety of animals that have been rescued or rehomed and now live happy and healthy lives; Jim and Jemima the Prairie Dog couple, Jeff and Phil the rescue Guinea Pigs, Dave the Degu, Tiggy the African Pygmy Hedgehog, a Short Tailed Opossum and a few fancy mice too. We will focus our conversation on responsible pet ownership and the dangers of the exotic pet industry as well as busting some myths about the best and most ethical ways to keep our small furry friends.
10% of each ticket sold will be donated to South Essex Wildlife Hospital – a rescue, rehabilitation and public advice charity that takes in sick, injured and orphaned animals from the areas around East London, North Kent and South Essex. No animal is turned away and the hospital often houses 200-300 animals at any one time. They function entirely on donations and volunteers, and our contribution will make a difference.
The drawing class is open to all, from beginners to advanced. All drawing materials are supplied, including paper, but please feel free to bring colours or any other specific media you might like to use. Drawing tips and guidance will be provided throughout the session. The aim of these drawing classes is to inspire a sense of appreciation and understanding for the animals and their conservation in the wider world.
Wild Life Drawing is working with the finest animal handlers, sanctuaries and organisations to put on these events. All the animals that attend the sessions are comfortable and happy in different environments and around people, their welfare is our highest priority. These animals will be attending with two highly experienced animal handlers that not only care for these animals but also re-home other unwanted exotic pets or rescue animals. These animals will be in specially designed runs, with plenty of enrichment activities and hidden treats to keep them occupied and happy for the time they are with us. All animals go through a 'Heath and Happiness' test before attending any external events, and are rewarded with their favourite foods.
Booking with a Gift Voucher or Class Credit
If you would like to book this class with a new gift voucher then please enter the five digit code in the promo code box at checkout to redeem this class. If you have old gift voucher (the code should start with WLD...) or if you have a voucher from another vendor (The Indytute or Not on the High Street) or if you would like to use a ticket in credit, then please email us at info@wildlifedrawing.co.uk quoting the code to book your place on this class.
Tickets are non-refundable but can be transferable to another name. If you have any questions, don't hesitate to get in touch with Jennie on: info@wildlifedrawing.co.uk