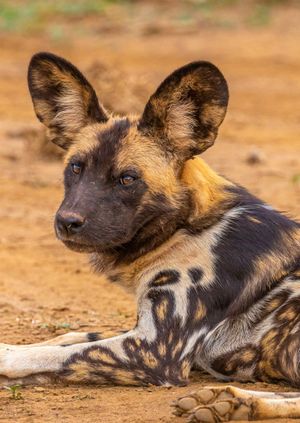 Wild Life Drawing Online: African Painted Dogs
28th Sep 2021 7pm - 8:30pm
This is a live-stream event
Add to Calendar
Event Details
Our next online class focuses on the iconic Painted Dogs of Africa. These sociable canines live in close knit packs that hunt together, rear young together and even been documented sharing food and assisting weak or ill pack members. They are native to Sub-Saharan Africa, where their numbers were as high as 600,000 just two decades ago, but they are now unfortunately classified as endangered. Human-wildlife conflict and loss of habitat are the main reasons for this and with population numbers of these gorgeous creatures now thought to be less than 5000 in the wild, conservation is more important than ever. We are proud to be collaborating with the fantastic Namibian wildlife sanctuary N/a'an ku sê (AKA Naankuse) for this class, and supporting their incredible rescue and rehabilitation work with the wildlife of Namibia. They also work with local communities, providing employment and education, and seek to reduce human-wildlife conflict.
As we draw the Painted Dogs from a selection of amazing reference footage and videos, we will be connecting with the lovely Fillipus in Namibia who will be telling us all about Naankuse's important conservation work as well as the history of the pack we're sketching.
To begin, WLD Founder and artist Jennie Webber will take introduce the basics of drawing African Painted Dogs, working from the reference images to give a demonstration of the shapes, proportions and anatomical features to identify as well as being on hand to feedback or dish out creative advice throughout the whole session. We also encourage you to ask questions throughout the classes, so we can all learn more about the animals, the issues facing them and what we can do to help improve the situation.
A downloadable Reference Media Pack containing images of African Painted Dogs will be supplied with the Zoom link. The basic materials you need to take part are paper, a pencil, eraser and sharpener, but of course you are more than welcome to work in whatever materials you enjoy or have to hand. Please get in touch if you need advice on materials, we're happy to help! You will be emailed the media pack, instructions and the Zoom link to join 48 hours before the event is due to start, or in good time if you booked last minute. If you haven't received the email, do check your junk mail first and then get in touch and we'll make sure you have it before the event is due to take place. You just need one ticket per device, not per person.
50% of your ticket price will be donated to N/a'an ku sê.