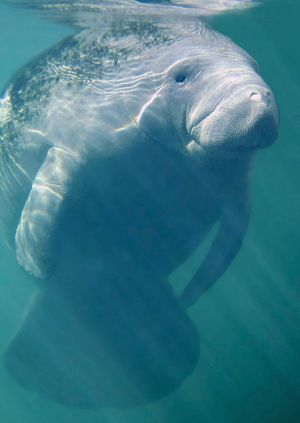 Wild Life Drawing Online: Manatees
18th Aug 2021 7pm - 8:30pm
This is a live-stream event
Add to Calendar
Event Details
Our next online class is all about the gentle giants of the sea – Manatees. These curious and charismatic marine mammals are actually more closely related to elephants than any other oceanic species and they spend their time munching their way through underwater seagrass fields, earning them the nickname 'sea cows'. Manatees are found in all different waterways – coastal bays, slow-moving rivers, even canals – but as the weather gets colder they migrate to the warmer waters of Florida.
We're delighted to be teaming up with Save the Manatee for this drawing class, a non-profit organisation based in Florida that aims to protect manatees through education, research and protecting their seagrass habitats. The team at Save the Manatee have built up relationships with some of the wild manatees that visit every year (identifiable by the scars on their back from boating collisions) and we'll be drawing two of their manatee superstars – Annie and Gator – from a media pack of reference images and links to a reel of manatee webcam highlights.
The class will begin with an introduction to manatees and the conservation and welfare factors that are affecting them from the team at Save the Manatee. Then WLD founder and artist Jennie Webber will take you through the basics of drawing manatees from reference images with a demonstration of the shapes, proportions and anatomical features to identify as well as being on hand to feedback or dish out creative advice throughout the whole session.

A downloadable Reference Media Pack containing images of manatees and links to the webcams will be supplied with the Zoom link. The basic materials you need to take part are paper, a pencil, eraser and sharpener, but of course you are more than welcome to work in whatever materials you enjoy or have to hand. Please get in touch if you need advice on materials, we're happy to help! You will be emailed the media pack, instructions and the Zoom link to join 48 hours before the event is due to start, or in good time if you booked last minute. If you haven't received the email, do check your junk mail first and then get in touch and we'll make sure you have it before the event is due to take place. You just need one ticket per device, not per person.
If you have not received your email before the class please check your junk mail or get in touch with Jennie on info@wildlifedrawing.co.uk
50% of your ticket price will be donated to the Save the Manatee.