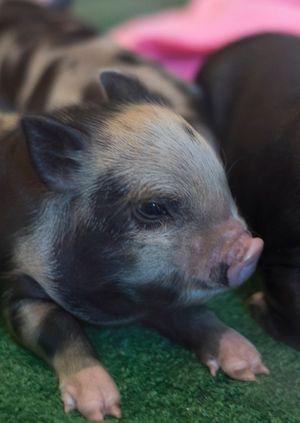 Wild Life Drawing: Miniature Piglets
19th Sep 2021 11am - 1pm
Add to Calendar
2021-09-19 11:00:00
2021-09-19 13:00:00
Europe/London
Wild Life Drawing: Miniature Piglets
Delighted to be bringing beautiful Miniature Piglets to Bermonds Locke Hotel this September for a day of drawing out in their plant filled courtyard. 'Miniature' or 'teacup' pigs is the term given to a smaller-than-average pig, originally created by crossbreeding Pot-bellied pigs and New Zealand Kune-Kunes. Although the piglets will be small at this stage, we will be talking about the realities of owning 'Miniature' pigs, the complex care they need and how large they can really grow! There's plenty to discover about pigs in general, and our expert will wow you with plenty of fascinating and myth-busting facts. Be prepared to fall in love with these lovely little piglets, and all for a good cause!As well as being super cute – the drawing class will have an ethical focus – we will discuss welfare issues within the world of pig farming and the meat industry. Ten percent of each ticket price will be donated to Farms not Factories – a non-profit organisation working to expose the true costs of cheap meat from animal 'factories' with the aim to inspire people to purchase meat from healthy, high welfare farms.The drawing class is open to all, from beginners to advanced and children aged 8 and above are welcome as long as they are accompanied by an adult also taking part in the drawing class. All drawing materials are supplied, including paper, but please feel free to bring colours or any other specific media you might like to use. The aim is to inspire a sense of appreciation and understanding for the animals and their welfare in the wider world. Wild Life Drawing is working with the finest animal sanctuaries and organisations to put on this event. All the animals attending are used to humans, different environments and will be accompanied by their experienced handlers, their welfare is our highest priority. These piglets are part of a bigger herd of Miniature Pigs that breed as and when they decide to – there's no force breeding on this farm! They are only ever pet pigs – none of these piggies will end up on a plate! The owner Marc (of Pet Piggies) is a passionate pig expert and upon any enquiries from people wanting to adopt a pet pig – he conducts thorough checks and home visit to ensure that the piglets are going to the best possible homes, with plenty of outdoor space and company from humans or other animals. Booking with a Gift VoucherIf you would like to book this class with a new gift voucher then please enter the five digit code at checkout to redeem this class. If you have old gift voucher (the code should start with WLD...) or if you have a voucher from another vendor (The Indytute or Not on the High Street) then please email us at info@wildlifedrawing.co.uk quoting the code to book your place on this class.Wild Life Drawing is working with the finest animal handlers, sanctuaries and organisations to put on these events – the welfare of the animals is our highest priority.  Tickets are non-refundable but can be transferable to another name. If you have any questions, don't hesitate to get in touch with Jennie on: info@wildlifedrawing.co.uk https://wildlifedrawing.eventcube.io/events/32813/wild-life-drawing-miniature-piglets
157 Tower Bridge Road, London, SE1 3LW
Event Details
Delighted to be bringing beautiful Miniature Piglets to Bermonds Locke Hotel this September for a day of drawing out in their plant filled courtyard. 'Miniature' or 'teacup' pigs is the term given to a smaller-than-average pig, originally created by crossbreeding Pot-bellied pigs and New Zealand Kune-Kunes. Although the piglets will be small at this stage, we will be talking about the realities of owning 'Miniature' pigs, the complex care they need and how large they can really grow! There's plenty to discover about pigs in general, and our expert will wow you with plenty of fascinating and myth-busting facts. Be prepared to fall in love with these lovely little piglets, and all for a good cause!
As well as being super cute – the drawing class will have an ethical focus – we will discuss welfare issues within the world of pig farming and the meat industry. Ten percent of each ticket price will be donated to Farms not Factories – a non-profit organisation working to expose the true costs of cheap meat from animal 'factories' with the aim to inspire people to purchase meat from healthy, high welfare farms.
The drawing class is open to all, from beginners to advanced and children aged 8 and above are welcome as long as they are accompanied by an adult also taking part in the drawing class. All drawing materials are supplied, including paper, but please feel free to bring colours or any other specific media you might like to use. The aim is to inspire a sense of appreciation and understanding for the animals and their welfare in the wider world.
Wild Life Drawing is working with the finest animal sanctuaries and organisations to put on this event. All the animals attending are used to humans, different environments and will be accompanied by their experienced handlers, their welfare is our highest priority. These piglets are part of a bigger herd of Miniature Pigs that breed as and when they decide to – there's no force breeding on this farm! They are only ever pet pigs – none of these piggies will end up on a plate! The owner Marc (of Pet Piggies) is a passionate pig expert and upon any enquiries from people wanting to adopt a pet pig – he conducts thorough checks and home visit to ensure that the piglets are going to the best possible homes, with plenty of outdoor space and company from humans or other animals.
Booking with a Gift Voucher
If you would like to book this class with a new gift voucher then please enter the five digit code at checkout to redeem this class. If you have old gift voucher (the code should start with WLD...) or if you have a voucher from another vendor (The Indytute or Not on the High Street) then please email us at info@wildlifedrawing.co.uk quoting the code to book your place on this class.
Wild Life Drawing is working with the finest animal handlers, sanctuaries and organisations to put on these events – the welfare of the animals is our highest priority. Tickets are non-refundable but can be transferable to another name. If you have any questions, don't hesitate to get in touch with Jennie on: info@wildlifedrawing.co.uk