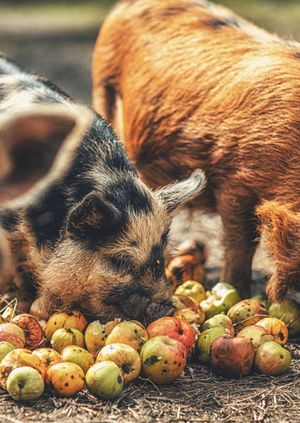 Wild Life Drawing Online: Piglets
17th Jul 2021 12pm - 1:30pm
This is a live-stream event
Add to Calendar
2021-07-17 12:00:00
2021-07-17 13:30:00
Europe/London
Wild Life Drawing Online: Piglets
Join us to meet, draw and fall in love with piglets on Saturday 17th July, via live video link from their new home at Vauxhall City Farm. These piglets are the natural Kune-Kune breed (native to New Zealand but now fairly widespread) and they have the classic floppy ears and that cute upturned snout. We'll be taking this opportunity to dispel some piggy myths – they're not actually smelly, fat or pink! There will also be discussion around pig welfare in the factory farming industries and how we can use our voices and purchase power to make a difference. Expect much cuteness, probably a bit of chaos but also some calm moments for drawing too!The class will begin with an introduction from WLD founder and artist Jennie Webber, who will take you through the basics of drawing pigs from life, with a focus on anatomy. There will be a drawing demonstration of the shapes and proportions to identify and some handy hints for capturing the snout and trotters. We will then switch screens to be introduced to the animals and we'll be chatting with Chris the Education Manager to find out all about these piggies and their lives on the farm. We'll spend around 75 minutes drawing, and there will be plenty of creative guidance and demonstrations along the way to help you with your artworks.The basic materials you need to take part are paper, a pencil, eraser and sharpener, but of course you are more than welcome to work in whatever materials you enjoy or have to hand. Please get in touch if you need advice on materials, we're happy to help! You will be emailed the Zoom link to join and 48 hours before the event is due to start, or in good time if you booked last minute. If you haven't received the link, do check your junk mail first and then get in touch and we'll make sure you have it before the event is due to take place. You just need one ticket per device, not per person. Suitable for families and all ages and abilities!50% of each ticket sold will be donated to Vauxhall City Farm. https://wildlifedrawing.eventcube.io/events/31449/wild-life-drawing-online-piglets
Live virtual stream event
Event Details
Join us to meet, draw and fall in love with piglets on Saturday 17th July, via live video link from their new home at Vauxhall City Farm. These piglets are the natural Kune-Kune breed (native to New Zealand but now fairly widespread) and they have the classic floppy ears and that cute upturned snout. We'll be taking this opportunity to dispel some piggy myths – they're not actually smelly, fat or pink! There will also be discussion around pig welfare in the factory farming industries and how we can use our voices and purchase power to make a difference. Expect much cuteness, probably a bit of chaos but also some calm moments for drawing too!
The class will begin with an introduction from WLD founder and artist Jennie Webber, who will take you through the basics of drawing pigs from life, with a focus on anatomy. There will be a drawing demonstration of the shapes and proportions to identify and some handy hints for capturing the snout and trotters. We will then switch screens to be introduced to the animals and we'll be chatting with Chris the Education Manager to find out all about these piggies and their lives on the farm. We'll spend around 75 minutes drawing, and there will be plenty of creative guidance and demonstrations along the way to help you with your artworks.
The basic materials you need to take part are paper, a pencil, eraser and sharpener, but of course you are more than welcome to work in whatever materials you enjoy or have to hand. Please get in touch if you need advice on materials, we're happy to help! You will be emailed the Zoom link to join and 48 hours before the event is due to start, or in good time if you booked last minute. If you haven't received the link, do check your junk mail first and then get in touch and we'll make sure you have it before the event is due to take place. You just need one ticket per device, not per person. Suitable for families and all ages and abilities!
50% of each ticket sold will be donated to Vauxhall City Farm.