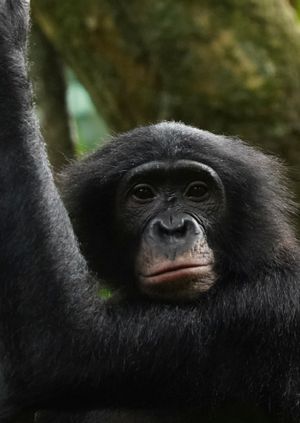 Wild Life Drawing Online: Bonobos
29th Jun 2021 7pm - 8:30pm
This is a live-stream event
Add to Calendar
Event Details
For the first in our series of Animal Behaviours focussed classes, we're taking a deep dive into the world of Bonobos. Now you may think that bonobos are just like chimpanzees, but you'd be wrong! Bonobos are slightly smaller, darker in colouration and lead largely peaceful lives within matriarchal societies – a stark comparison with chimpanzee communities which are lead by dominant males and have been known to fight violently, kill infants and even wage war on neighbouring communities. Bonobo females form coalitions to curtail male aggression within groups and are known to meet other groups for harmonious gatherings of feeding, grooming and sex – sometimes these gatherings last for weeks, even months. As we draw these peaceful primates from reference images and footage, we'll be learning all about their behaviour and examining their similarities and differences to us, with plenty of opportunities to ask questions.
The class will begin with an introduction to bonobos with Dr Kirsty Graham (PhD Research Fellow at the University of St Andrews) and Laura Lewis (5th Year PhD candidate at Harvard University) whose research focuses on how bonobos communicate using gestures, and eye tracking research respectively. Then WLD founder and artist Jennie Webber will take you through the basics of drawing bonobos with a demonstration of the shapes, proportions and anatomical features to identify as well as being on hand to feedback or dish out creative advice throughout the whole session. 
A downloadable Reference Media Pack containing images and footage of bonobos in the wild will be supplied with the Zoom link. The basic materials you need to take part are paper, a pencil, eraser and sharpener, but of course you are more than welcome to work in whatever materials you enjoy or have to hand. Please get in touch if you need advice on materials, we're happy to help! You will be emailed the media pack, instructions and the Zoom link to join 48 hours before the event is due to start, or in good time if you booked last minute. If you haven't received the email, do check your junk mail first and then get in touch and we'll make sure you have it before the event is due to take place. You just need one ticket per device, not per person. 
If you have not received your email 24 hours before the class please check your junk mail or get in touch with Jennie on info@wildlifedrawing.co.uk
50% of your ticket price will be donated to the Animal Behaviour Collective – an organisation that provides mentorship and microgrants for students in Animal Behaviour Research.