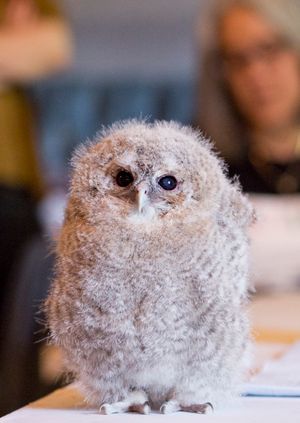 Wild Life Drawing Online: Baby Owls
25th May 2021 7pm - 8:30pm
Add to Calendar
2021-05-25 19:00:00
2021-05-25 20:30:00
Europe/London
Wild Life Drawing Online: Baby Owls
On Tuesday 25th May we have a real special treat for you – baby owls! We'll have a live zoom link set up with Sky Birds of Prey HQ with both Tawny and Barn Owlets at varying stages of their development. We'll watch these little fluff balls find their feet, do a spot of owl yoga and then fall asleep cuddled up to their siblings!The class will begin with an introduction from WLD founder and artist Jennie Webber, who will take you through the basics of drawing animals from life. There will be a drawing demonstration of the shapes, proportions and anatomical features to identify within the baby owls – and Jennie will be on hand to demo, feedback or dish out creative advice throughout the whole session. We will then switch screens to be introduced to our feathered friends, and we'll be learning about the process of rearing owls from hatchlings and some of the welfare and conservation factors affecting owls in the UK.The basic materials you need to take part are paper, a pencil, eraser and sharpener, but of course you are more than welcome to work in whatever materials you enjoy or have to hand. Please get in touch if you need advice on materials, we're happy to help! You will be emailed instructions and the Zoom link to join 48 hours before the event is due to start, or in good time if you booked last minute. If you haven't received the email, do check your junk mail first and then get in touch and we'll make sure you have it before the event is due to take place. You just need one ticket per device, not per person. If you have not received your email 24 hours before the class please check your junk mail or get in touch with Jennie on info@wildlifedrawing.co.uk https://wildlifedrawing.eventcube.io/events/31062/wild-life-drawing-online-baby-owls
Live virtual stream event
Event Details
On Tuesday 25th May we have a real special treat for you – baby owls! We'll have a live zoom link set up with Sky Birds of Prey HQ with both Tawny and Barn Owlets at varying stages of their development. We'll watch these little fluff balls find their feet, do a spot of owl yoga and then fall asleep cuddled up to their siblings!
The class will begin with an introduction from WLD founder and artist Jennie Webber, who will take you through the basics of drawing animals from life. There will be a drawing demonstration of the shapes, proportions and anatomical features to identify within the baby owls – and Jennie will be on hand to demo, feedback or dish out creative advice throughout the whole session. We will then switch screens to be introduced to our feathered friends, and we'll be learning about the process of rearing owls from hatchlings and some of the welfare and conservation factors affecting owls in the UK.
The basic materials you need to take part are paper, a pencil, eraser and sharpener, but of course you are more than welcome to work in whatever materials you enjoy or have to hand. Please get in touch if you need advice on materials, we're happy to help! You will be emailed instructions and the Zoom link to join 48 hours before the event is due to start, or in good time if you booked last minute. If you haven't received the email, do check your junk mail first and then get in touch and we'll make sure you have it before the event is due to take place. You just need one ticket per device, not per person.
If you have not received your email 24 hours before the class please check your junk mail or get in touch with Jennie on info@wildlifedrawing.co.uk